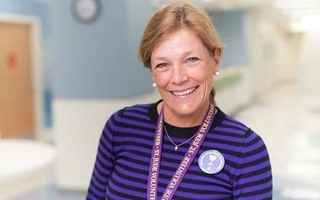 Mimi Gibson, RN, has been a Eucharistic lay minister volunteer at St. Jude Children's Research Hospital since December of 2012. She had previously lived in Belgium for four years with her husband. "I am passionate about pediatric nursing, with 20 years of experience in the field," she said, "and I'm honored to share my Catholic faith in this beautiful, joyful setting where the work of the Holy Spirit is so rich and tangible."
During her volunteer hours, Mimi brings the Eucharist to the Catholic inpatient families. "Many are delighted to receive it, as they must miss out on church services while a family member is being treated at St. Jude," she said.
She is trained through the diocese and the hospital to administer the Eucharist, to talk about the readings with families, and to pray with them when receiving. In this way, she is able to bring the celebration of the Catholic mass to those who would like to participate.
Mimi loves to see faith at work among the patients and families who face such great challenges. She described it as humbling to witness the resilience of their faith.
Mimi spoke about the personal impact that volunteering at St. Jude has had. "Spending time at St. Jude helps me keep my priorities in perspective," she said. "Busy isn't always better!" She also remarked on the courage of the patients and families. "I marvel at it every time I step through the doors," she said.
Like many other volunteers, Mimi commented on how she has learned from the patients and families and how they inspire her. "It is a privilege to know how hard they fight because it makes my challenges seem incidental."
Outside of her time at St. Jude, Mimi loves to spend time with her family and their Greater Swiss Mountain dog, Tusker. She plays gold, teaches yoga and coaches lacrosse at Hutchinson School. She also sews and enjoys dancing. As if she were not already busy enough, she has also run the St. Jude half marathon numerous times. As she said, "It is a phenomenal race, and I'd recommend it to anyone!"