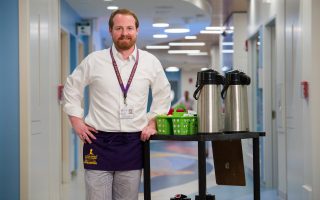 Craving a hot chocolate or a cup of coffee? Many St. Jude Children's Research Hospital patients and families are, too. Volunteers such as Matthew Hinson, who helps run the Beverage Cart, soothe inpatient families with a warm drink at night. Hinson has been a volunteer with the Beverage Cart since August of 2016. Every night, the cart stops by rooms on the Bone Marrow Transplant, Intensive Care, Leukemia and Solid Tumor units. Although Hinson only sees the patients and families in each room for a minute or two, he says the small interactions he has are powerful.
"My impact on its face is minute; however, the patients and families are so thankful that it makes me feel like I'm doing something of real significance. If I can bring the slightest amount of joy or happiness to the patients and families, then it makes my week," he says.
Hinson, like many, was inspired to give back to St. Jude because of its mission to find cures and save children. As a native Memphian, Hinson was no stranger to the hospital's work.
"I choose to spend my time at St. Jude because of its dedication to healing sick children and finding cures to some of the rarest diseases imaginable," he writes. "The least I can do is serve some coffee or hot chocolate for a few hours a week."
And although one coffee may seem small, the impact it may have on a family — and the amount of times coffee is handed out — really add up. In 2016, volunteers like Hinson gave out 2,866 cups of coffee and 6,849 hot chocolates. Still, for all he gives, Hinson says he receives more.
"Without a doubt, I get ten-fold more out of volunteering than I give. I take away something special every time that I volunteer," he says. "My experiences at the hospital help me be a better person."