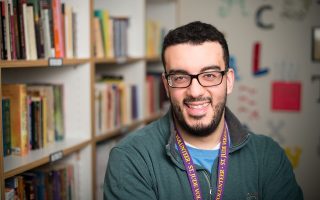 Passing by St. Jude Children's Research Hospital, it's hard not to marvel at the number of buildings, the vastness of the campus and the high-tech procedures and tests that occur within the facility. However, the hospital contains many familiar sights and sounds. In the morning, one dad grabs a morning cup of coffee while a mom heads to the exercise room and nearby kids play with new toys. In the afternoon, many families return to their homes and housing facilities. One of the beauties of St. Jude is how the focus is set on giving patients and families the most normal life possible. That normal life for kids sometimes includes the all-too-familiar struggle of learning new concepts. That's where volunteers in our tutoring program, like Mazen Istanbouli, are ready to help.
Istanbouli's work is cutting-edge; outside the hospital, in addition to pursuing his graduate degree in Neuroinformatics, he also works with biomarker data that help diagnose post-traumatic stress disorder. His skill in biology, chemistry and neuroscience make him an excellent resource for students who may be struggling. 
Since his start in May of 2015, Istanbouli has worked with students and teachers to give one-on-one help and to assist in small-group activities. He says the time he has spent working alongside the teachers has been eye opening.
"They're very practical and empathic," he said. "They're balancing a lot, but they handle it well and don't let it affect their professional interactions."
Istanbouli respects the teachers' ability to know what to say and what not to say, and cites the desire to learn those same skills as one of the reasons he first came to St. Jude.
Istanbouli's previous impression of St. Jude changed upon visiting the campus.
"I never would have expected the multidimensional treatment that these patients receive," he said. "They're basically given a whole life inside the hospital."
Now he gets to be a part of that experience, from helping students find their "a-ha" moments to sharing conversations with families. Istanbouli says that meeting other Middle Eastern families and speaking in Arabic with them is one of his favorite aspects of his work.
"It feels like a whole other level of communication," he said.
Istanbouli says the most profound change he has experienced since coming to St. Jude is that he is now more mindful. At the end of his volunteer shift, he reflects on his interactions and how the words he has used have made a difference to the children.
"I think it's definitely forced me to be more aware of how I say things," he said. "I might be the one teaching my students, but they teach me a lot more — not necessarily about myself, but about who I want to be."