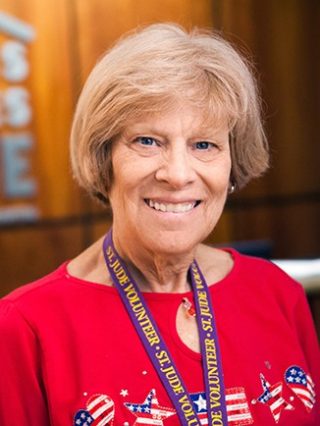 Maureen Kennedy has been an asset to St. Jude Children's Research Hospital since 2004 when Tri Delta Place, formerly the Memphis Grizzlies House, held its grand opening. Though renamed, Maureen's position as a Dinner Volunteer, and her love for the Grizzlies, and St. Jude families, has remained the same.
In 2016, Maureen was honored with the Sheryl K.Neinhuis service award, the highest honor bestowed to a St. Jude volunteer.
Maureen started volunteering at St. Jude after visiting her daughter, a St. Jude employee, after retiring from teaching. Maureen had always been an active volunteer in her hometown and was the New Jersey State Altruistic Chair for Alpha Delta Kappa, an international teaching sorority. After finally moving closer to her daughter in Memphis, Maureen started volunteering as a Child Life volunteer in the Medicine Room and regularly helped with special functions such as the Easter Bunny event.
"I came out as I do with all my volunteer experiences, with an open mind and a good heart." – Maureen Kennedy
What's a typical shift like for Maureen? She comes up with themes for their Tuesday dinner shifts. She arranges crafts, which could be themed coloring books or making bracelets, along with color schemes and balloons to match. When Maureen arrives, she sets up the dining room tables and crafts for the evening to make everything organized for guests. During dinner, she leads craft time with the kids, replenishes tables and sometimes helps serve dinner. Maureen works closely with Tri Delta Place staff and appreciates the bond they have made through helping families.
One of Maureen's favorite St. Jude memories is when she helped connect two moms who had similar St. Jude experiences over a dinner. Maureen said of the experience, "It felt very rewarding to see them supporting each other while they are in different phases of their journey. It fell into place. They hugged, shared stories, and they supported each other." Volunteering has impacted Maureen because she believes if she can help just one person a little bit, it is worth it. She states, "Volunteering at St. Jude is so rewarding in so many ways! And I have met some wonderful people!"
"I am blessed to hear from some patients and families who graciously thank me and let me know how much they appreciate my smile, help and support."
As a certified teacher of Early Childhood, Elementary, and Teacher of the Handicapped, Maureen has also always enjoyed tutoring. She is currently a part of the pilot program for the St. Jude School Program where her only initial expectation was that she could use her gift of teaching and working with children as an outlet for her creativity. She expects nothing in return but instead is rewarded with fulfillment and pure joy of helping patients and families take a break after long days. Maureen exemplifies the mission of St. Jude and her volunteer work is certainly appreciated.