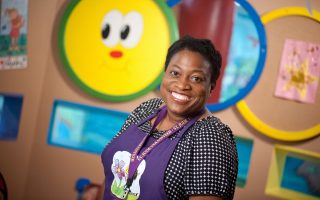 St. Jude Children's Research Hospital Beverage Cart and Tour Guide volunteer, and local third grade teacher Kim Louis, was recently recognized as the "Educator of the Week" by WREG News Channel 3. Nominated by her students and parents, Kim was surprised during class by the camera crew. Kim's huge smile and friendly nature leads her students each day in the classroom. As an educator, she firmly believes that she did not choose to teach, rather teaching choose her.
"I'm doing what I'm supposed to do. I'm happy. I love teaching: it's my gift," Kim explains.
Using that gift every day, Kim hopes she is opening her students' eyes to a greater awareness of the world they live in. By sharing her spirit of volunteerism, Kim teaches her students compassion by example and always reminds them to "give a little bit."
Kim's love for teaching is complemented by her true dedication to St. Jude. She brings the same smile and positive energy she uses in the classroom to her shifts at St. Jude.
"Whenever you meet someone, you want it to be as positive as possible; whether that is my third grader's first day or when I walk into a room at St. Jude," Kim says.
She spreads her optimistic nature to all she encounters at St. Jude with a warm cup of hot chocolate and her engaging spirit. Choosing to volunteer at St. Jude was an obvious choice for Kim. She tries to ease their worries. "I hope when I walk into the room, that I can bring a smile, make [the patient] feel better – just bring a ray of sunshine."
Kim truly does bring a warm presence to the halls of St. Jude, making friends with nurses, patients and other volunteers. For Kim the experience is very rewarding, "There's a whole world outside of my little problems."