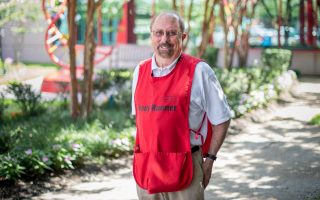 Dennis Medford has been a ready runner for St. Jude Children's Research Hospital since January of 2016. As a ready runner, Medford moves clean wheelchairs and wagons from the basement to the main floor of the hospital, where he exchanges them for dirty ones. When he's not collecting wagons and wheelchairs, he helps guide patients and delivers packages to inpatient rooms.
"I have great calf muscles from walking five or six miles in a three-hour shift," Medford jokes.
St. Jude has always had a special place in Medford's heart. "I worked at St. Jude as a teacher for 23 years. I started volunteering as a ready runner because I missed being here," Medford says.
Being back at St. Jude means Medford gets the chance to see some patients he used to teach and catch up with his former coworkers.
As for his current position, seeing people use the wagons and wheelchairs puts a smile on Medford's face. "Being a ready runner is extremely rewarding. By providing clean wagons and wheelchairs, we can make the lives of the patients and families a little easier," Medford says.
Over the years, Medford has accumulated many memories and stories from his time volunteering and as a staff member and plans on continuing his position as a ready runner.