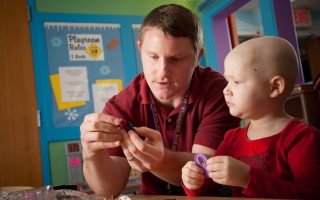 Joseph Mertz began volunteering with St. Jude Children's Research Hospital in March of 2013. He serves as an inpatient Child Life volunteer each Thursday. Child Life volunteers orchestrate many different recreational activities and play opportunities in group and one-on-one settings by providing a comfortable, accepting and non-threatening environment under the direction of a Child Life Specialist. These volunteers bring the patients joy and give them a break to have some fun.
Joseph was driven to volunteer at St. Jude because he wanted to do something to ease the trials that the families here encounter every day. "I know attitude and mood can really affect day-to-day life and help people face difficult situations," he explained. For this reason, he dedicates his time to spreading happiness in the hospital. Joseph aims to make each family's stay a little brighter.
When he reminisced about his favorite memories at St. Jude, he noted that even the most insignificant moment or detail can be meaningful. Joseph illustrated that point when he talked about a certain toy. "We had to throw away a lion baby toy that had been there since I had started, and I got legitimately upset," he said. "I took pictures." He even provided a photograph.
Joseph said that he has seen how a child's illness can turn a family's life upside down, and he has learned about the effect that experience can have on the entire family. Yet he has also seen how, even in spite such challenges, families can find the hope and strength to continue forward.
Joseph said what he really enjoys is, "The look on a kid's face when you give them that perfect toy after the rest of their day has been full of pain and tears." He understands that moments of fun are of utmost importance to relieve the stress of the day. He wants others to know how involved everyone is here in serving that purpose. "Staff all around really cares about helping kids, making their lives better, and creating an environment for those to happen," he said. "It's incredibly rewarding to be a part of that and to contribute."  He commented that there are many benefits to volunteering with St. Jude but one of the best is that he gets to run a play room every week. "Enough said."