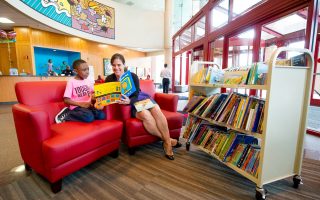 Simone Meeks is both a volunteer and a leader on the St. Jude Children's Research Hospital Book Cart. The cart, which runs once a month, carries books for St. Jude patients and families. From comics to mysteries to board books—just about any genre can be found and taken for free from the cart. In addition to getting a brand-new book once per month, patients and families can also sit down for story time with an individual volunteer such as Meeks.
The Book Cart is one of the hospital's most unusual volunteer positions, and it thrives thanks to Meeks. While most volunteers apply to St. Jude directly, book cart volunteers apply through Meeks and the Volunteer Odyssey: Read to Me Project.
"The opportunity to bring in other people to the hospital who would normally not have a chance to see how wonderful it is," she says, is something she cherishes about the position.
Since her start in October of 2002, Meeks has interacted with hundreds of the patients and families at St. Jude. Getting to bring a smile to them makes her smile in return, and she cites "the never-ending excitement kids get from seeing the Book Cart" as one of her favorite parts of the job.
The Book Cart holds more than just books for many, and while patients and families can get a free story from it, that often is not all they take away. Meeks expresses this best when talking about the impact her volunteers have on St. Jude families:
"Hopefully, our reading gives the patients a small break, as well as a lot of joy," she says.