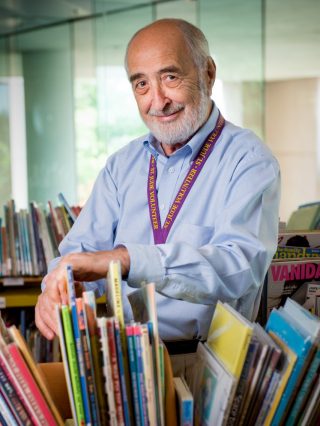 Jerry Rossi is a volunteer in the St. Jude Children's Research Hospital Family Resource Center—a library where patients and families can find their favorite magazines and books, as well as information about diseases for which they are receiving treatment. Rossi helps in a variety of ways. He may help somebody check out a book, organize supplies, distribute magazines to waiting areas, or sanitize books to prevent the spread of infection. Above all, he's ready to help wherever help is needed—even if it's not in the place he originally thinks it may be.
Rossi's ties to St. Jude began when he first worked at the FedEx-St. Jude Classic. After retiring, he considered moving to Florida, but he stayed in Memphis as he felt a need to give back to St. Jude in another way. He applied to volunteer in November of 2002 with the original intent to become a tour guide, but after seeing that the gift shop needed help, he worked there instead. Rossi stayed on as a gift shop volunteer for another decade, until the position underwent changes in 2014. Afterward, he became a volunteer in the Family Resource Center, where he has been ever since.
Although his volunteer duties have changed greatly, Rossi has enjoyed the many ways in which he has given back to St. Jude. His time volunteering has allowed him to see many different sides of the hospital, from the quiet of the Family Resource Center to the busy interactions of the gift shop.
"When I worked in the gift shop, I had more interaction with the patients and families," he said.
 "I met people from all over the world, and you could always see how thankful they were. Sometimes former patients, now in their twenties, would come in and ask for one of my coworkers. She would always come out and greet each of them by name."
Although he sometimes jokes that he "may get more out of it than St. Jude does," Rossi's thousands of hours spent giving back to the St. Jude community have made him an invaluable volunteer.