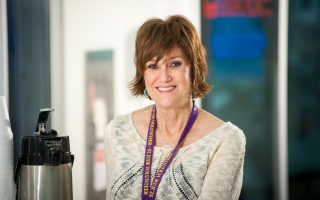 When Lori Smith isn't jet setting around the globe, she volunteers her time running with the Beverage Cart on Friday nights. Lori has been volunteering at St. Jude Children's Research Hospital since 2009 and doesn't plan to stop anytime soon. What is her typical shift like? She's usually making the rounds on all inpatient units and the Medicine Room, asking people on the floors if they'd like some hot chocolate and coffee.
Her outside experience definitely plays a role in her volunteer experience because Lori has been a flight attendant for Delta for over 28 years. When asked about why she wanted to volunteer at St. Jude and give her time, Lori's response was simple.
"Being on a tight budget, I don't always have a lot of money to give, but I can give my time and hope that it counts toward something," she says.
Even though Lori's interactions are relatively short, she hopes that she brings light into their day by giving them a warm cup of coffee or cocoa.
Lori said that volunteering at St. Jude has also affected her in a positive way by seeing how everyone at the hospital has a positive attitude and by how much they care about the patients and their families.
When she isn't flying or volunteering at St. Jude, Lori is doting on her two kids. Her son works for FDIC in Little Rock, Arkansas, and her daughter is at the University of Memphis majoring in Elementary Education. She's proud of them and grateful for both. Lori feels grateful to have received the opportunity to volunteer at St. Jude and plans to continue her service for years to come. She says she can't think of a better place to spend Friday evenings.