The National Symposium for Undergraduate Research (NSUR) is a competitive academic event hosted by the St. Jude Graduate School of Biomedical Sciences.  The symposium allows U.S. undergraduate students to showcase their research work in poster and oral platform settings, improve their presentation skills, and learn about the cutting-edge research and facilities at St. Jude Children's Research Hospital. Symposium-related expenses for all selected students will be covered by the St. Jude Graduate School.
Students may apply only if they have received an invitation from St. Jude or are nominated by a faculty advisor.
To participate, an applicant must:
Be a U.S. citizen or permanent resident
Be enrolled as a junior or senior with an interest in graduate studies in the biomedical sciences
Have not yet committed to a graduate school
How to Apply for NSUR 2017
Faculty may nominate one or more undergraduate students. Nominations for the 2017 National Symposium for Undergraduate Research must be received by Tuesday, February 28, 2017.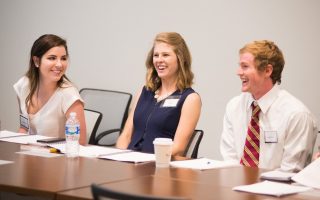 Students who have been nominated by a faculty member or invited to apply by St. Jude will receive an electronic application link via email. Applications for the 2017 NSUR may be submitted starting Wednesday, March 1, 2017.
The electronic application must include the following:
CV
Unofficial transcript
Research abstract
Nomination form
Reference letter from one research advisor
Applications must be completed online and submitted by noon CST on Friday, March 24, 2017. Selected students will be notified of their acceptance by mid-April.