Through gaming, my son Zac chooses joy over cancer.
St. Jude patient Zac has been fighting cancer for eight years. His mom Amy describes how his determination has never flagged, and how gaming and friendship have helped him – especially now.
St. Jude patient Zac has been fighting cancer for eight years. His mom Amy describes how his determination has never flagged, and how gaming and friendship have helped him – especially now.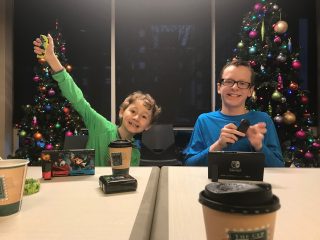 Gaming and Zac go way back. No one in our family can remember when Zac first started playing video games, but our best guess is at 4 years old. We remember him setting the timer on the microwave himself when he was a very little boy to track the screen-time limits we gave him.
It would have been just about two years later that Zac was first diagnosed with cancer – Burkitt lymphoma. He was 6.
During that battle with cancer, he would even be playing his Nintendo DS as he was rolled into the Procedures area. And he always wanted us to have it ready for him to play as soon as he woke up in Recovery (and usually told us which game to have ready prior to him going to sleep). If you've ever spent significant time in a hospital, you know that most hospitals are pretty boring. We were glad he had an outlet to help pass the time.
Following months of treatment that included a bowel resection, his scans looked good, and we hoped and prayed cancer was behind us forever.
It was not to be. In 2016, on the day before his 11th birthday, a biopsy confirmed Zac had metastatic osteosarcoma. Now Zac became a patient of St. Jude Children's Research Hospital. From June 2016 to February 2017, at St. Jude, he had multiple rounds of chemotherapy, two thoracotomies to remove lung tumors, amputation of his right leg above the knee and radiation to his left leg. I mean, can you believe what this kid has gone through?
But Zac adjusted like a champ to his "new normal," walking well with his prosthetic leg and going back to St. Jude every three months for scans.
Unfortunately, eight months after we went home, his scans showed tumors in both lungs. This was a monster we were fighting. More chemotherapy, more thoracotomies, an immunotherapy trial and ultimately, amputation of his left leg above the knee in January 2019.
But something really special happened during this time, too. Zac met his best friend and fellow St. Jude patient, Carson. What a blessing their friendship has been.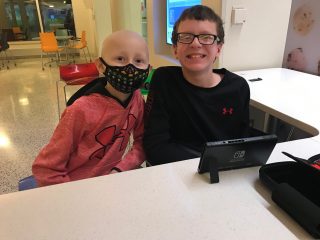 Since we met in the surgical waiting area in December 2017, the boys have spent hours gaming together when they're both at St. Jude, and playing together online and via FaceTime when they're apart.
I've often had to laugh as I've walked through our house carrying laundry or whatever only to glance over and see Carson, via screen. Like, "Oh, hey, Carson." He and his family are family to us. And the boys are often more concerned about each other than they are about themselves. It's a very sweet friendship. One thing about St. Jude is you make friends from all over, and gaming is a wonderful tool for these kids to stay connected no matter where they are.
Zac returned home from St. Jude in March 2019, but developed wrist pain that May. We hoped it was just a sprain, but scans soon showed recurrence of osteosarcoma at multiple sites – right wrist, right upper arm, both lungs, one rib. Did I mention this kid has been through some stuff?
Through it all, Zac has been adamant that he isn't quitting! Even battling cancer for the fifth time, he still has his faith, positivity, crazy sense of humor – you should hear the one-liners and amputation jokes that roll off his tongue – his care and concern for others, his love of life and his smile. And it goes without saying he still has his passion for gaming. You can tell how much Zac loves video games when you look at the sockets of his prostheses. On one leg he has Super Mario characters. On the other leg, Pokémon.
An example of his determination: Zac hates to take pain medication, he doesn't like the way it makes him feel. Plus, his reaction times are slower, which doesn't improve his playing abilities. On the day after Zac's first thoracotomy (an incredibly painful surgery), he asked his nurse what time his surgeon would be coming to see him the next morning because he wanted to be up in a chair playing games when his doctor arrived. And sure enough, early the next morning Zac was up in a chair playing Punch Out when his surgeon rounded. And after his most recent amputation surgery, Zac took no narcotics after being discharged from the hospital. He used games to distract himself from the pain.
When we arrived back at St. Jude to start round 10 of chemotherapy we had no idea what was in store for the world. Because of the COVID-19 pandemic, Zac and I currently spend most of our time in St. Jude housing, leaving almost only for medical appointments. At this time in particular it is so wonderful to hear him laughing and talking with friends from home and from St. Jude while gaming online.
We all have choices to make as we deal with life's difficulties and uncertainties. We may not be able to control or fix the situation, but we can choose how we respond to it. We choose hope. We choose joy!