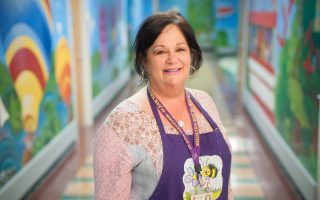 For most kids, Friday nights are filled with sleepovers, staying up late and celebrating the end of the week. However, the children staying on the inpatient units at St. Jude Children's Research Hospital don't get to have a "normal Friday night." That's where Helping Hands Volunteer Randa Rosenblum comes in.
"There really isn't anything typical about my shift. It can be staying with a child while the parents catch a meal together, tend to other children, take a shower or do laundry. It can be gathering a group of kids for a painting party by the jukebox or a dance-off in the connecting hall between the Patient Care Center and the Chili's Care Canter. Or playing a game of Monopoly with a group of teens," Rosenblum said.  She gives these children, and sometimes their parents, a somewhat "normal Friday night."
Helping Hands is designed as a respite care program that allows parents to take a short break, such as take a shower, run an errand or talk to a doctor. But Rosenblum goes above and beyond that job description. She makes each Friday night shift extra special for the patients and siblings with whom she visits. No two Fridays are alike when Rosenblum volunteers. She can be seen playing with Barbie dolls and painting fingernails one night, and the next week she is conducting tours of the fish tanks or gazing up at the stars.
One of Rosenblum's favorite memories as a Helping Hand volunteer includes a huge paint party.
"One night, a particularly creative patient and I started a painting party near the jukebox," she said. "Within a short amount of time, we likely had over 30 patients and family members involved. As people came off of the elevator, they joined in. We went around to the rooms to see who wanted to join us. Even a family from ICU came down to take a break. This patient made signs depicting the art gallery and the entire glass in the second floor lobby was covered with patient and family art. It stayed up a couple of weeks!"
Rosenblum has volunteered on a weekly basis at St. Jude since 2009. Although she has over 40 years of volunteer experience, she says being a Helping Hand Volunteer has affected her the most.
"I get so very much out of it. These patients and their families teach me what grace is; what hope is; what joy is. They remind me of what is really important in life. That is being with each other, offering a smile, a shoulder and ear. Their courage is extraordinary. Their tenacity is unmatched. Their ability to laugh and enjoy life is remarkable. Each moment I am with a patient, siblings or family, is a beautiful gift from God," she said.
In her spare time, Rosenblum enjoys volunteering with various charitable organizations, reading, laughing and spending time with her family, especially her three nieces and goddaughter.
Rosenblum said she "hopes that the laughter and support that I have been able to give some of the patients has helped them in some small way. I hope to be able to volunteer as long as I physically and mentally can."