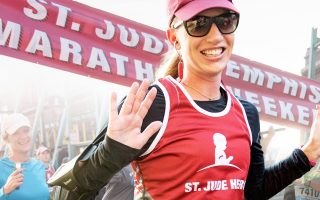 Raising $600 is as simple as doing the following seven steps. Do one step a day, and you're done in a week. Easy!
Start with yourself. Donate $25 to your goal, and be the example you want your donors to see.
Double your gift by checking with your company to see if they'll match. There's another $25.
Get your friends involved! Ask five of them for $25 each. That gives you $125 for the kids of

St. Jude

.
Ask five family members to support you with $25 each. That's $125 more.
How about your neighbors? Ask five of them to give $25 for another $125.
Do your coworkers know about your goal? Ask five to donate $25, and that brings your total so far to $550 (nicely done!).
Reach out online. Link to your fundraising page on social media and share what you're doing. Tell your friends how close you are to reaching your goal (just $50 more!), and let them help you get there.
Just like that, you've raised $600 without breaking a sweat. And the best part is knowing that your running will benefit a greater good, helping kids with cancer and other life-threatening diseases. As an added bonus, you can even earn recognition for your efforts along the way. Thank you for joining us in supporting the lifesaving work of St. Jude. (In case you didn't already know, you rock!)