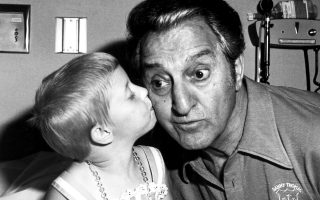 Danny was a struggling entertainer with a wife and young daughter to provide for.
He walked into a Detroit church and prayed to St. Jude Thaddeus  — the patron saint of hopeless causes — asking him to "help me find my way in life, and I will build you a shrine."
Soon after his prayer, his comedy career blossomed, taking him to the heights of American fame. And through all his success, he remembered his pledge to build a shrine to St. Jude.
Success in life has nothing to do with what you gain in life or accomplish for yourself.
It's what you do for others.

Danny Thomas, St. Jude founder
The shrine would be a hospital where children with life-threatening diseases, such as acute lymphoblastic leukemia, could find hope. He and his wife, Rose Marie, crisscrossed the country, seeking support.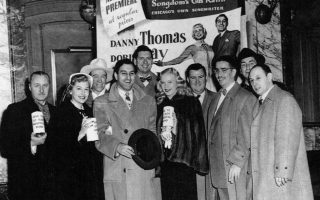 Danny asked his fellow Arab-Americans to join him. He told them it was a way for them to say "thank you" to the United States for the freedom given to them and their parents, and to honor their forefathers who had immigrated to America.
In 1957, 100 representatives of the Arab-American community met in Chicago to form ALSAC® with the sole purpose of raising funds and awareness for St. Jude, a mission the organization continues to this day.
On February 4, 1962, Danny Thomas saw his vow to St. Jude Thaddeus realized when he opened the doors to St. Jude.
I believe I know why I was born, why I was put on this earth.
And I think any person who can say that is blessed.

Danny Thomas, St. Jude founder
Since opening, St. Jude has made an extraordinary impact on the worldwide medical community.
The physicians and scientists of St. Jude invented treatments that have helped push the overall survival rates for childhood cancers from less than 20 percent when the hospital opened in 1962 to 80 percent today.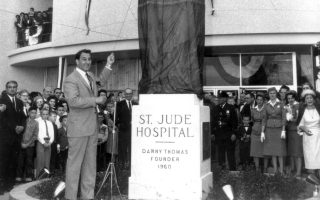 And St. Jude freely shares the discoveries it makes, so every child saved at St. Jude means doctors and scientists worldwide can use that knowledge to save thousands more children.
Danny died on February 6, 1991, just two days after joining patients, families and staff to celebrate the hospital's 29th anniversary. He was laid to rest in a family crypt at the Danny Thomas/ALSAC Pavilion on the grounds of the hospital.
Danny lived to see his hospital become an international beacon of hope for the catastrophically ill children of the world. And his belief that "no child should die in the dawn of life" continues to drive us forward.
"If we built this whole place and saved one child's life, it would be worth it."
Danny Thomas, St. Jude founder
Families never receive a bill from
St. Jude

for treatment, travel, housing or food – because all a family should worry about is helping their child live.
You may also be interested in