When you are here, your heart changes forever.
Jaclyn Graves, WBKR-FM 92.5 radio DJ and St. Jude supporter
After driving more than five hours from Owensboro, Kentucky, on a gloomy, rainy Monday in February, Chad Benefield and Jaclyn Graves had smiles on their faces as they hugged new friends and old at the entrance of St. Jude Children's Research Hospital.
Benefield and Graves are DJs for radio station WBKR-FM 92.5 in Owensboro. The station has been running Country Cares for St. Jude Kids® radiothons for the past 13 years, and Benefield and Graves have orchestrated them for the past eight years. In what has become an annual tradition for the last five years, they drove 10 radiothon supporters to Memphis to tour St. Jude.
Each year they bring a different group of passionate radiothon volunteers who've never visited the hospital, in an effort to further spread the St. Jude mission: Finding cures. Saving children.®
"When you are here, your heart changes forever," Graves said of St. Jude.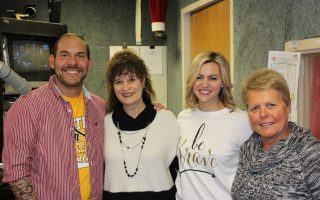 During WBKR's two-day radiothon, Benefield and Graves are on air for 13 straight hours each day, telling the story of St. Jude and patient families while accepting pledges and signing up listeners as Partners In Hope®, where supporters commit to a monthly donation to St. Jude. This year WBKR's radiothon raised $203,352 for St. Jude; the event has raised more than $1.3 million in its history.
"Our listeners tune in and stay listening the whole time," said Benefield, who even has the St. Jude logo tattooed on his arm. "They know what we do for St. Jude. They know how much we care."
The duo has created additional St. Jude events in their community, including a fitness fundraiser called Sweating for St. Jude, during which they run or walk on a treadmill for 12 hours to raise funds for the hospital. This year, they are transforming the event into a bicycle ride beginning at St. Jude and concluding in Owensboro.
"When you are in radio, you have a voice," Graves said. "You can be obsessed with the celebrity factor of it, or you can use it to make a difference. We see our purpose as to make a difference to better and enlighten our community. St. Jude is a place that people needed to know about. It is a place you can't help but want to do everything for."
You, too, can help give hope to kids who are fighting
life-threatening

illnesses.