St. Jude patient NaNa with her mom, Tyquencia
One day everything was good, the next we had to go to Memphis (Tennessee, where St. Jude is located). I had to go to save my child, and sacrifice for her to make sure she was in the best situation, even though I missed my boys.

Tyquencia, NaNa's mom
NaNa underwent six rounds of chemotherapy with minimal results, and then had a lifesaving haploidentical transplant — a procedure pioneered by St. Jude — with Tyquencia as her donor.
This procedure entails a bone marrow transplant that uses donor cells from a family member who is a partial match for the patient's immune type.
Deep down, you don't know how many nights I cried, how many nights I prayed. Not knowing if your child's going to make it, it's a lot to take in. But St. Jude saved my baby.

Tyquencia, NaNa's mom
Treatments invented at St. Jude have helped push the overall childhood cancer survival rate from 20% to more than 80% since it opened more than 50 years ago. And St. Jude won't stop until no child dies from cancer.
Now cancer-free, 3-year-old NaNa has a lot of energy, and Tyquencia says that through all the pain, NaNa never stopped smiling.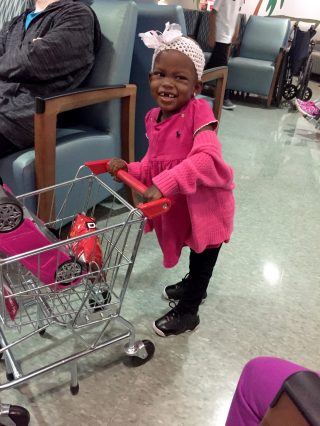 She was reunited with Fat Fat and the rest of her brothers when she made it 100 days post-transplant, and she continues to return to St. Jude for checkups.
Help our families focus on their sick child, not medical bills.
When you donate monthly, your gift means families, like NaNa's, never receive a bill from St. Jude for treatment, travel, housing or food — because all a family should worry about is helping their child live.