For several months on and off, Damien was unwell, often sick to his stomach. But when he started to lose his balance and experience headaches, Damien's parents began to worry it was something far more serious.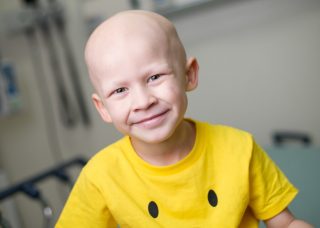 Damien likes basketball and video games.
In September 2014, tests confirmed their fears: Damien had a brain tumor identified as a medulloblastoma. His family turned to St. Jude, where Damien's treatment included surgery, radiation therapy and chemotherapy.
Damien with his doctor, Amar Gajjar, MD, Director of St. Jude's Neuro-Oncology Division.
Families never receive a bill from St. Jude for treatment, travel, housing or food — because all a family should worry about is helping their child live. Damien is now finished with treatment and visits St. Jude for regular checkups.
"He's outgoing and inquisitive."
Let's end
childhood cancer.

Together.
September is Childhood Cancer Awareness Month. Help families, like Damien's, when you sign up and fundraise for the St. Jude Walk/Run to End Childhood Cancer.