When Gunnar was only 8 months old, his family learned he suffered from a soft tissue cancer called rhabdomyosarcoma. As a nursing student, his mother, Kristie, had aspired to work at St. Jude Children's Research Hospital. But when she finally walked through the doors, it was in the hope of saving her own child's life.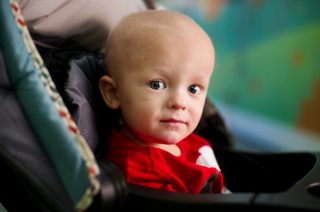 Gunnar's treatment at St. Jude includes chemotherapy and proton therapy. St. Jude has constructed the world's first proton therapy center dedicated solely to the treatment of children, the St. Jude Red Frog Events Proton Therapy Center, right on the St. Jude campus.  
"St. Jude is a great, great hospital. It's beyond expectations. You just don't know until you live it. I would not want to be any other place," said Kristie.
Gunnar is an outgoing and expressive little boy who steals the heart of everyone he meets.
Families never receive a bill from St. Jude for treatment, travel, housing or food — because all a family should worry about is helping their child live.
Kristie said, "Even with insurance, there's always going to be something that you get billed for. Knowing that I won't have to pay for anything medically out of pocket is a huge relief."
"
St. Jude

is a great, great hospital. It's beyond expectations. "
Let's end
childhood cancer.

Together.
September is Childhood Cancer Awareness Month. Help families, like Gunnar's, when you sign up and fundraise for the

St. Jude

Walk/Run to End Childhood Cancer.