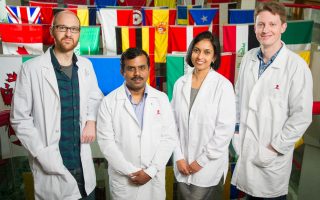 Great Place to Work and Fortune name St. Jude Children's Research Hospital one of the 100 Best Workplaces for Millennials in the U.S. 
St. Jude Children's Research Hospital has ranked on Great Place to Work and Fortune's "100 Best Workplaces for Millennials" list. Great Place to Work surveyed nearly 90,000 millennials in the United States and the rankings are comprised of the company's total score, based upon the employee feedback from the surveys.
"Millennials are committed to making a difference, and St. Jude, through its research and care, represents one of the best efforts for changing how medicine is practiced around the world," said James R. Downing, M.D., St. Jude president and chief executive officer. "We are honored to know that millennials look at our organization with such appreciation and want to be a part of the St. Jude mission of finding cures and saving children with cancer and other life-threatening diseases."
Millennials are a growing majority in the workplace, and St. Jude continually strives to offer a wide range of benefits and programs to give employees the support and resources to do their best work and make the most of their careers. Recently launched initiatives include paid maternity leave, on-campus summer concert series and a comprehensive wellness and fitness program.
Most importantly, the St. Jude workplace encourages collaboration, creativity and offers employees the opportunity to make a difference in the lives of children every day.
"Creating an environment where millennials can thrive and find meaning in their work is essential to attracting the next generation of doctors, scientists and other health care professionals," said Dana Bottenfield, vice president of Human Resources. "We see millennials as valuable partners who will help St. Jude continue its lifesaving work."
St. Jude

Children's Research Hospital

St. Jude Children's Research Hospital is leading the way the world understands, treats and cures childhood cancer and other life-threatening diseases. It is the only National Cancer Institute-designated Comprehensive Cancer Center devoted solely to children. St. Jude is ranked the No. 1 pediatric cancer hospital by U.S. News & World Report. Treatments developed at St. Jude have helped push the overall childhood cancer survival rate from 20 percent to 80 percent since the hospital opened more than 50 years ago. St. Jude freely shares the breakthroughs it makes, and every child saved at St. Jude means doctors and scientists worldwide can use that knowledge to save thousands more children. Families never receive a bill from St. Jude for treatment, travel, housing and food — because all a family should worry about is helping their child live. To learn more, visit stjude.org or follow St. Jude on social media at @stjuderesearch.