Diego's journey to St. Jude started three years after finishing his first treatment for leukemia at one of the St. Jude affiliated clinics in El Salvador, his home country. One day, he started feeling sick and doctors believed he had anemia.
Further tests revealed Diego's leukemia had returned in mutated form. After being diagnosed with acute lymphoblastic leukemia, the family was referred to St. Jude for a new medical protocol.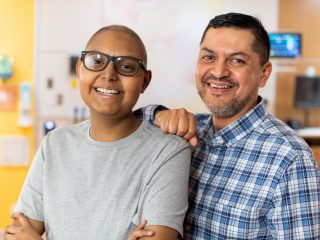 On a typical day at St. Jude Children's Research Hospital, one can usually hear the sounds of shoes shuffling against the smooth hallway floors, a plethora of voices conversing in the Kay Kafe cafeteria and intercoms buzzing with appointment announcements.
On a particularly special day, a visitor could hear a ukulele playing softly in the background, a solo concert for the doctors and nurses.
On that day, Diego was playing the ukulele for Dr. Pui, his oncologist who treated him for acute lymphoblastic leukemia, the most common type of childhood cancer.
Upon arriving at St. Jude, the family found renewed hope.
"We found a great relief," Grethel said at the time. "From hearing in El Salvador that he had a 30% chance of survival to coming here and hearing that he would be okay."
Treatments invented at St. Jude have helped push the overall childhood cancer survival rate from 20% when the hospital opened in 1962 to more than 80% today.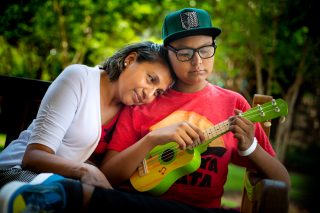 At St. Jude, Diego underwent treatment and shared his love of music with not only Dr. Pui, but also with Mexican singer, Saul 'El Jaguar' Alarcón. Alarcón had the chance to interact with Diego's family and tour the hospital for the first time.
"You feel like you're at home," Alarcón said of St. Jude. "To imagine what people like Diego and his family are going through, while at the same time having so much faith in the blessing that St. Jude provides is amazing."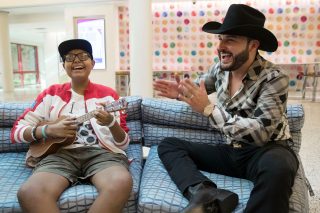 For Diego's family, St. Jude was an opportunity to help not only Diego, but others as well.
"Diego once asked me, 'Why does everyone else have a normal life and I don't?'" said Luis, Diego's dad, at the time. "And I told him, 'You are going through something no one else is going through, and you have to take advantage of it. You have to make the most of everything.' I see Diego conquering the world and helping people, because if we are here it is to learn how to help others."
Diego enjoyed playing in his own rock band and studying mathematics, which included competing at the national level and placing 5th out of 140 competitors in El Salvador. His parents envisioned him cancer-free, traveling the world and giving motivational speeches.
St. Jude patient Diego with his mother and father
The best reward in this life is helping other people. It is the hope, the life that they gave my son here.

Grethel, St. Jude patient Diego's mom
Editor's note: We regret to inform you that Diego lost his battle with cancer in January 2019.
Help our families focus on their sick child, not medical bills.
When you donate monthly, your gift means families, like Diego's, never receive a bill from St. Jude for treatment, travel, housing or food — because all a family should worry about is helping their child live.