In late 2014, Jordyn started to complain about aches and pains. Since she was a competitive gymnast, her doctor thought it was related to a sports injury. But then Jordyn developed a persistent fever and was often in tears because she felt so bad.
Jordyn was found to have acute lymphoblastic leukemia (ALL). About 3,000 children and adolescents are diagnosed with ALL in the U.S. each year, making this blood cancer the most common childhood cancer.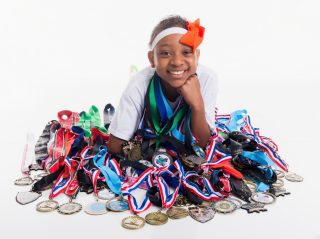 Jordyn, a competitive gymnast, is in sixth grade and is an A student who loves to read. She also loves to tell jokes and riddles. 
Within a week, Jordyn was referred to St. Jude Children's Research Hospital. St. Jude has helped increase the survival rates for ALL from 4% before opening more than 50 years ago, to 94% today. At St. Jude, Jordyn is undergoing two-and-a-half years of chemotherapy.
"We knew
St. Jude

was the best place for childhood cancer. We knew that when families go to

St. Jude,

they have no worries. They're going to be taken care of."
"St. Jude has given her hope she'll return to gymnastics, and that's helped her fight. It's helped her stay positive," her mom said. "Jordyn is passionate about being athletic. She's passionate about saying, 'Hey, this happened to me, but I'm going to bounce back.'"
Help our families focus on their sick child, not medical bills.
When you donate monthly, your gift means families, like Jordyn's, never receive a bill from St. Jude for treatment, travel, housing or food — because all a family should worry about is helping their child live.
Other stories that might interest you