A little 'Southern gentleman'
After his cancer relapsed during his first six months of treatment, Luke needed a rare transplant that wasn't available in his hometown in Canada yet. His parents' search for the best available treatment option led them to 
St. Jude

.
Read an update from Luke's family
"Mark and I are so very proud to share an update with your St. Jude supporters. It's hard to believe, but this January will mark 4 years since Lucas had his life saving stem cell transplant at St. Jude. 4 years!! And life today couldn't be sweeter."
When little Luke's cancer relapsed during his first six months of treatment for infant acute lymphoblastic leukemia, a rare occurrence, he needed a bone marrow transplant right away.
Luke was only 16 months old. And his chances of finding a donor match were non-existent. "Luke is of mixed race," his mom, Kate explained. "There are very few Middle Eastern donors on the registry, and even fewer mixed race — Caucasian and Middle Eastern — donors."


His only hope was a haploidentical transplant, where a partially matched parent can be a donor, but the procedure was not yet available where the family lived in Canada.
Luke's family was referred to St. Jude Children's Research Hospital where the transplant and two rounds of chemotherapy were successful in putting Luke's cancer into remission once again.
Luke's brother, Dominic, was born while the family was at St. Jude — his parents call him their "Memphis Baby."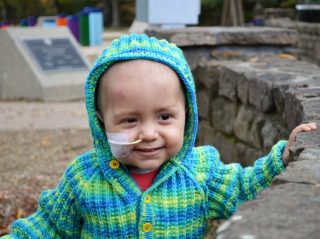 Luke has the manners of a Southern gentleman since his time in Memphis.

Kate, Luke's mom
St. Jude freely shares the discoveries it makes, and every child saved at St. Jude means doctors and scientists worldwide can use that knowledge to save thousands more children.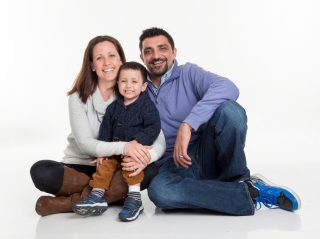 "We're forever grateful for the cutting-edge research done at St. Jude," said Kate. "The type of transplant that Luke received wasn't available in Canada when we needed it. Yet one year later, it is. That's because not only is St. Jude finding new ways to beat childhood cancer, they share their findings with doctors all over the world." 
The entire family is back home in Canada now, and Luke will return for annual checkups.
"Luke has the manners of a Southern gentleman since his time in Memphis," Kate said. "And he truly adores his little brother."
Help our families focus on their sick child, not medical bills.
When you donate monthly, your gift means families, like Luke's, never receive a bill from St. Jude for treatment, travel, housing or food — because all a family should worry about is helping their child live.