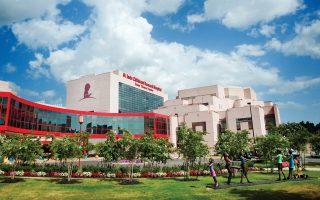 Researchers at St. Jude Children's Research Hospital tirelessly and brilliantly work to advance cures for, and prevent, pediatric catastrophic diseases through research and treatment; and in their work they make discoveries beyond our core mission.
These discoveries require further development, so our office endeavors to license them to companies who will turn them into successful products. Here are just a few examples of discoveries licensed from St. Jude that have been incorporated into products or processes that are now deployed in the marketplace.
St. Jude

's Contribution to Chimeric antigen receptors (CARs) with 4-1BB stimulatory signaling domain

The use of cell therapy and immunomodulation has become a hot area of study and development which has resulted in the translation of academic research into clinical therapies for B-cell malignancies.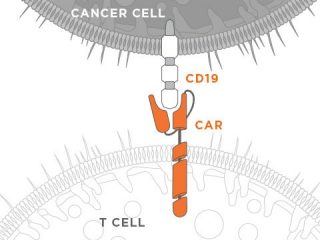 In the early 2000s, Dario Campana, MD, PhD, and Chihaya Imai, MD, PhD, developed a chimeric antigen receptor (CAR) to be expressed in an immune cell to recognize the CD19 antigen, which is prevalent on the B cells that cause acute lymphoblastic leukemia (ALL), B-cell chronic lymphocytic leukemia (CLL) and B-cell non-Hodgkin lymphoma (NHL). One CAR made at St. Jude was composed of an anti-CD19 single chain variable fragment extracellular domain, a CD8 alpha transmembrane domain, and a cytoplasmic domain containing 4-1BB and CD3zeta signaling domains. Anti-CD19 CAR immunotherapy works by genetically modifying a patient's immune cells to express the CAR protein, which in turn stimulates these cells to attack and kill CD19 antigen expressing cancer cells.
The Office of Technology Licensing (OTL) at St. Jude Children's Research Hospital filed a patent application in 2003 based on Campana and Imai's work, claiming, among other things, compositions for genetically modifying human immune cells to target and destroy cancer cells. Campana publicly related findings at a conference later in 2003. This led to further research and collaboration and eventually to the testing of CAR modified T-cells in clinical trials that garnered international attention.

Today, multiple therapies that utilize Campana and Imai's patented CAR are showing promising clinical results in trials at numerous institutions in the U. S. and abroad – many with commercial sponsors. Results associated with these trials have shown such promise that Science labeled cancer immunotherapy as the breakthrough of the year in its December 20, 2013 issue, and both progress and commercial funding have accelerated. Startups like Juno Therapeutics and Kite Therapeutics, as well as larger organizations like Novartis, aim to have an approved CAR T-cell treatment on the market soon.
A St. Jude's patent related to Campana and Imai's work was issued in March of 2013. Later that same year St. Jude exclusively licensed this patent and other related patent rights to Juno Therapeutics. Juno aggregated these patent rights with technology and rights from a number of entities, including Fred Hutchinson Cancer Research Center, Memorial Sloan Kettering Cancer Center and Seattle Children's Research Institute, and has now raised over $300 million for further research, development and commercialization of immunotherapies. Juno intends to improve and leverage its cell-based platform to develop new product candidates that address a broader range of cancers and human diseases. Juno also announced a sublicense of certain commercial rights outside North America and China as part of a collaboration with a large biopharmaceutical company and have also announced the founding of a new company to leverage Juno's CAR and other technologies in China.
Updates:
In 2017, the FDA granted the Novartis drug based on the St. Jude CAR, called "Kymriah," Priority Review and Breakthrough Therapy designations: https://www.fda.gov/newsevents/newsroom/pressannouncements/ucm574058.htm
Kymriah was then approved for another indication:
https://www.novartis.com/news/media-releases/kymriahr-tisagenlecleucel-first-class-car-t-therapy-from-novartis-receives-second-fda-approval-treat-appropriate-rr-patients-large-b-cell-lymphoma
Celgene (formerly Juno) is aiming for approval in 2018.
http://ir.celgene.com/releasedetail.cfm?ReleaseID=1069109
St. Jude

's Contribution to a New Class of Cancer Drugs
The anaplastic lymphoma kinase (ALK) gene was discovered (SJ-93-0002) in the 1990s by St. Jude scientists searching for genes affected by a chromosomal change common in the cancer cells of pediatric patients with anaplastic large cell lymphoma (ALCL). This discovery led to issued patents that were licensed to develop therapeutics for treatment of adult lung cancers. Three ALK inhibitor drugs have been approved by the US Food and Drug Administration (FDA) to treat over 200,000 new cases of lung cancer are diagnosed in the U.S. each year. Current estimates are approximately 3-5% (6,500 to 11,000) patients with non-small cell lung cancer carry the ALK rearrangement and may be candidates for treatment with the drugs:
Xalkori® (crizotinib) is a FDA approved drug (8/2011) made by Pfizer for use with anaplastic lymphoma kinase (ALK)-positive non-small cell lung cancer (NSCLC).
Zykadia™ (ceritinib) is a FDA approved drug (4/2014) made by Novartis for the treatment of patients with ALK-positive metastatic non-small cell lung cancer (NSCLC) who have progressed on or are intolerant to crizotinib1. The approval of Zykadia addresses an unmet medical need for patients with this type of lung cancer who have progressed on prior therapy.
Alunbrig™ (brigatinib) is a FDA approved drug (4/2017) made by Takeda (developed by Ariad, which was acquired by Takeda in 2017) as a potent dual inhibitor of ALK and epidermal growth factor receptor (EGFR). It could also overcome resistance to osimertinib in certain patients.
St. Jude Children's Research Hospital is internationally recognized for its pioneering research and treatment of children with cancer; however, research of a far more common yet deadly disease also thrives here. For many years, St. Jude has been a global leader in the study of influenza because cancer patients undergoing treatments that diminish the immune system are at much more serious risk of death from infectious diseases like influenza; however, the impact of this disease extends far beyond the walls of St. Jude.
This video describes the historic global influenza pandemic of 1918 that affected strong, healthy young adults; killing as 100 million people in less than 3 years. In the early days, the complex infectious path from water fowl to humans was established, and scientists from St. Jude began monitoring annual mutations and contributing to development of the best line of defense; vaccines. For many years, benign stock virus was combined with new viral strains to produce vaccine seed stock that had to be processed extensively over as many as four months. With this new method, vaccine seed lot can now be produced in only 14 days.
In order to fully realize the potential of these technologies that extend beyond St. Jude's core mission, the Office of Technology Licensing seeks commercial partners to further develop these discoveries into successful products. Medimmune/AstraZeneca utilized the plasmid rescue system developed at St. Jude to generate seasonal flu vaccines more rapidly and reliably for Flumist®, the first FDA approved application. Medimmune also offers other influenza vaccine manufactures non-exclusive licenses to this technology so that urgent flu vaccine needs can be met. Perhaps most importantly, this system makes it possible to generate vaccines to potential pandemic flu strains like H5N1 for the first time. This is just one example of how research conducted at St. Judefor the benefit of our patient population can have far reaching health benefits for the adult population as well.
St. Jude

's Contributions to Diagnostics and Antibodies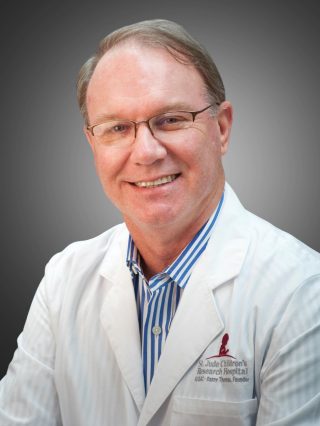 PRO-PredictRx TPMT® is a genetic assay doctors can use to help determine the correct dosage of thiopurines for their patients. The Prometheus Laboratories assay uses a discovery by Drs. William Evans and Eugene Krynetski of three mutations in the thiopurine S-methyltransferase (TPMT) gene that leave patients with a decreased ability to metabolize standard doses of thiopurines such as the leukemia drug 6-mercaptopurine. Patients with decreased ability to metabolize thiopurines can be identified by this assay and receive substantially the same benefit from reduced dosages of these drugs while avoiding toxic side effects.
FastImmune Cytokine System® was developed by BD Biosciences to rapidly analyze human lymphocyte activation and detect intracellular cytokines by flow cytometry. It contains an anti-CD19 monoclonal antibody (SJ25C1) developed at St. Jude. Determining intracellular cytokine levels in response to antigen activation can be used in the study of autoimmune diseases, HIV, tumor vaccine development, allergies and infectious diseases.
Oncomark 3-Color Oncomark Combinations® is an antibody cocktail from BD Biosciences used to study leukemia. In addition to the anti-CD19 monoclonal antibody (SJ25C1) developed at St. Jude which recognizes CD19 expressed on human B lymphocytes at most stages of maturation, this cocktail contains anti-CD79b, which is expressed at high levels in most B-cell disorders and either anti-kappa or anti-lamba which is present on neoplastic cells.
St. Jude

's Contribution to Bel-Art Labs Flowmi
St. Jude Children's Research Hospital is known for performing groundbreaking and life changing research; and the Office of Technology Licensing endeavors to facilitate the development of innovations originating during this research into products that can benefit St. Jude patients and the public at large. Sometimes, small things can make a big difference, as is the case with Flowmi™ Cell Strainers, a filter co-designed by Dr. Steven Zatechka at St. Jude and researchers Bel-Art Labs to improve flow cytometry. Flowmi is a fast and efficient cell strainer that joins to the end a micropipette tip and allows users to strain debris from a sample just prior to analysis by flow cytometers. These filters are designed to preserve sample volume and avoid clogs, and are recommended for use with samples having a maximum concentration of 2MM cells/ml. Find out more about Flowmi on their website: belart.com/flowmi
St. Jude

's Contributions to Avian Bird Flu Vaccines

Controlling avian influenza is probably not the first thing that comes to mind when you think of the work we do here at St. Jude, but it can be an important part of accomplishing our mission. Our researchers played an integral role in the discovery that avian influenza outbreaks can lead to catastrophic human influenza outbreaks. These outbreaks tend to hit children particularly hard, especially those like our cancer patients who are immune-compromised during their treatment. We share technology from our long running influenza research program at St. Jude through licensing efforts with companies that have used it to help control avian influenza. Two examples are highlighted below:
TROVAC AIV H5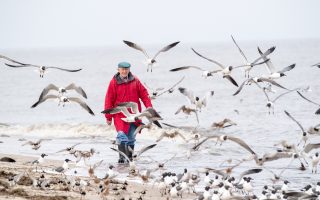 In the early 2000's, influenza received increasing attention due to widespread outbreaks of the H5N1 avian virus among poultry in Asia. This "bird flu" strain would jump from birds to humans; killing people in Thailand, Vietnam, Cambodia and Indonesia.  Luckily, that strain did not easily transmit from human to human, but many scientists feared it would only be a matter of time until the virus mutated to do so, potentially triggering a global pandemic. Governments and private companies around the globe began a desperate race to make human and avian influenza vaccines to curtail the spread of this deadly virus. Fortunately, a small group of researchers at St. Jude had already been working in this area for decades and were busy addressing this problem.    
In the 1980's, Dr. Robert Webster provided a clone containing the hemagglutinin (HA) gene from an H5 avian influenza strain to a small company, Virogenetics (now part of Sanofi), under the terms of a standard material transfer agreement (MTA) for research into the development of an avian vaccine. Virogenetics inserted that gene into an attenuated strain of a fowl pox virus to generate an avian vaccine. In 1988 Virogenetics entered into a license agreement with St. Jude to further characterize and commercialize the research vaccine, resulting in what is now known as TROVAC AIV H5.
Virogenetics received a conditional Veterinary Biological Product License in the US from the US Department of Agriculture in order to sell TROVAC AIV H5 in 1998. TROVAC AIV H5 could be administered to chickens on the day they hatched, and is fully efficacious after one dose. In less than 10 years, over one billion doses of the TROVAC AIV H5 vaccine were safely administered in Mexico, Guatemala, El Salvador and Vietnam.
Poulvac® FluFend H5N3 RG
In 2004, Fort Dodge Animal Health (a division of Wyeth at the time, and later Pfizer) collaborated with members of St. Jude's Virology Division to develop an avian vaccine to protect against the H5N1 virus, which evolved into a license agreement later that year. The seed stock for the vaccine was made using the plasmid rescue system developed at St. Jude. St. Jude made the seed stock used by Fort Dodge to prepare prototype vaccines within an established seed-lot system to develop Poulvac® FluFend H5N3 RG, a viable large-scale commercial product. 
In 2006, Fort Dodge announced the vaccine was conditionally approved by the National Agency of Veterinary Medicine of France for use in controlling the H5N1 avian flu virus spreading in France. The French government then requested 7 million doses of the vaccine to begin its control and eradication program. They began by vaccinating outdoor ducks to prevent them from contracting avian influenza from migrating birds. Fort Dodge continues to promote the use of this vaccine as the best way to protect bird populations from the spread of this deadly virus.