A clinical fellowship represents a pivotal point in your career. At St. Jude, you'll work with expert mentors and enjoy numerous opportunities to advance your professional development.
Explore opportunities
Research Training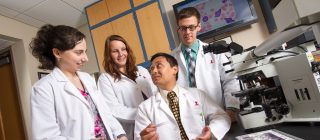 Clinical fellows have the opportunity to be involved in innovative clinical or lab-based research as part of their training, with mentoring from some of the world's leading investigators. 
Physician Scientist Training Program
This prestigious program awards three funded fellowships each year to outstanding clinical fellows who have excelled in basic, translational or clinical research. The one-year program is designed to prepare candidates for successful academic careers as independently funded physician-scientists. 
Annual Clinical Fellows' Research Symposium
Our annual Research Symposium is a dedicated event just for clinical fellows. It provides an intimate, friendly environment for fellows to practice presenting their work via posters or oral presentations, to discuss each other's research, and to learn more about successful career planning and development. Faculty and mid-level providers cover patient care throughout the day to allow the fellows to attend all events. Awards are presented at the end of the day.
Leadership Opportunities
Fellows are given the opportunity to sit on several institutional committees, including the Graduate Medical Education Committee (GMEC), Ethics, and Patient Safety and Quality Improvement (PS/QI) committees. 
Appreciation Week for Clinical Fellows
Our annual appreciation week each February provides a unique opportunity for our fellows to thank and receive kudos from their colleagues, including nurses and other staff, mid-level providers and faculty. Throughout the week, fellows attend a series of luncheons with faculty and the Postdoctoral Leadership Council, as well as a focused luncheon on career development. The week ends with a relaxing off-site event for fellows, their friends and families.
Career Development Workshops
Our career development workshops help you develop the skills needed for a successful job search and career. Topics include negotiating, networking, leadership, conflict management and more. 
Retreat for Clinical Fellows
At our annual half-day retreat each fall, fellows are relieved of patient care responsibilities to focus on team building and group support activities. This retreat recognizes that support can be an important aspect of daily work with patients and families facing life-threatening illnesses. Professionals with expertise in this area facilitate the event.
Coursework Scholarship Program
Clinical fellows who want to supplement their training experience by taking courses in areas such as study design, bioethics and biostatistics are eligible for financial assistance to cover the cost of these courses. 
Professional Development Account
Each clinical fellow is given a generous annual allowance to enhance education and professional development. This account can be used to cover travel to conferences, journal subscriptions, professional licenses and professional society activities.
Simulation Activities
Simulations help you hone your skills in effectively responding to a variety of situations. St. Jude uses simulation sessions to enhance individual training and improve patient safety, in many areas including delivering bad news and responding to acute life-threatening events.
Seminars & Symposia
All of our clinicians and researchers benefit from regular multidisciplinary seminars & symposia, featuring St. Jude faculty and world-renowned invited speakers. Our Career Development Seminar Series is tailored specifically for clinical fellows, with topics ranging from career planning to patient care. 
Fellows also participate in Root Cause Analyses (RCAs) and in an associated interactive, participant-driven Morbidity Mortality Quality Improvement (MMQI) conference. The nationally supported Schwartz Rounds, held bimonthly, are devoted to issues faced by all hospital caregivers and employees when children face EOL care. The MMQI and Schwartz Rounds conferences are multidisciplinary and very well attended.