You might already know that St. Jude is leading the way the world understands, treats and defeats childhood cancer and other life-threatening diseases. But here are a few things that might surprise you.
How is it that no family ever receives a bill from St. Jude for treatment, travel, housing or food? Find out more about how donors make this possible.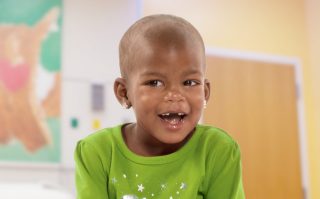 NaNa has known cancer since she was 1 year old, but today, she has a brighter future with the help of St. Jude.
Woods was 3 years old when he was diagnosed with brain cancer. He is being treated at St. Jude, where his family will never receive a bill.
Share this page with friends and family to support St. Jude kids during the holiday season.
Any amount helps

St. Jude

kids

Approximately 75% of the budgeted costs of St. Jude are covered by public contributions.

We're saving children all over the world

St. Jude has treated children from all 50 states and from around the world.

We provide lifesaving treatment at no cost to families

Families never receive a bill from St. Jude for treatment, travel, housing or food — because all a family should worry about is helping their child live.
Give thanks. Give to help them live.