Three
St. Jude

dads unite for the

St. Jude

IRONMAN 70.3 Memphis
Joining forces to fight cancer and honor their kids, they embarked on a lifelong friendship and the ultimate endurance test.

September 30, 2022 • 4 min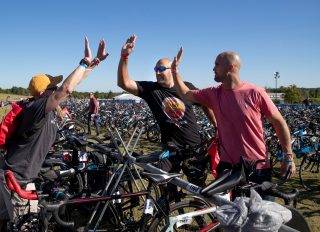 Three dads — Chris Frunzi, Chris Corbett and Tim Sparer — who probably never would have met had it not been for St. Jude Children's Research Hospital, joined forces to compete in an ultimate endurance test: the St. Jude IRONMAN 70.3 Memphis.
The trek honors their children Jackson Frunzi, Calvin Corbett and Sierra Shuck-Sparer; as well as Bennett Frunzi, who passed away from brain cancer on April 3, 2021, when he was 3 years old. St. Jude provided their care.
The grueling event — a 1.2-mile swim and 56-mile bike ride, topped off by a 13.1-mile run — required months of training. But as Frunzi said, "this little triathlon" — which reduces some participants to tears and leaves others collapsing in a heap at the finish line, if they even finish at all — "is nothing compared with what Jackson and Bennett have been through" as children undergoing treatment for cancer.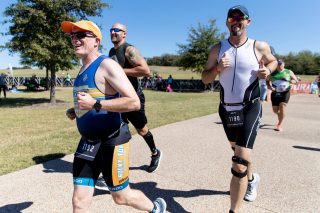 A way of coping
Frunzi's two young boys, Jackson and Bennett, were diagnosed with cancer within months of each other in early 2019.
That's when the 6-foot-9, 300-pound police officer, who says, "I'm not a runner, I'm not a biker, I'm not a swimmer," turned to fitness as a way of coping. "Exercise has always been a good stress reliever for me."
He began going to the gym and running up and down the steps at St. Jude housing. He says the exertion has been even more beneficial for him than talk therapy.
When Frunzi saw a social post about the St. Jude IRONMAN 70.3, he decided to not only register, but encourage two other St. Jude dad friends, Corbett and Sparer, to do the same.
Supportive texts
Ever since hearing about the St. Jude IRONMAN 70.3, Chris Corbett, who has one IRONMAN under his belt already, wanted to compete in his son Calvin's honor while supporting St. Jude.
Calvin's treatment at St. Jude for rhabdomyosarcoma, a soft tissue cancer, began in 2018 and has included proton radiation and chemotherapy. Today, the jokey kid who loves Huskers football is back home and doing well.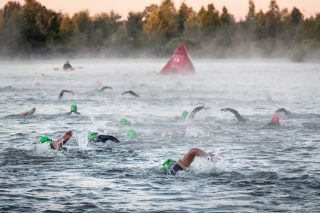 An injury prevented Corbett from participating in the St. Jude IRONMAN 70.3 last year.
Like Frunzi, Corbett is a big guy at 6 feet, 6 inches, so the two men traded tips on nutrition — specifically, how to carb-load during the event.
Getting in the workouts wasn't easy for Corbett, a dad of four whose career as a train engineer requires many hours far from home.
The three dads kept in touch by text messaging to provide support to each other.
"I would text him, 'Hey, I had a crappy workout. Bad day. Just not feeling it today,'" said Frunzi. "And just hearing that another (person felt the same), you know... kind of keeps us all going."
Friends through hardship
Tim Sparer jokes that at 5 foot, 11 inches and 175 pounds, he's destined to be known as the short guy on the team, but that's OK with him. This is his fourth IRONMAN and his first for St. Jude.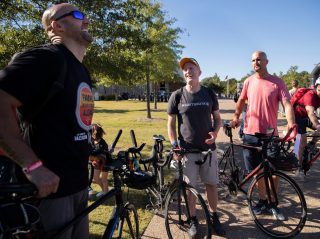 Sparer met Frunzi in 2019 when the latter gave him a lift to the auto mechanic after his car broke down at St. Jude.
"Chris is just such a super nice guy," said Sparer. "Just went totally out of his way (even) with two kids in treatment and, you know, totally helped me out in a really tight situation, and I always appreciated that."
Sparer's daughter, Sierra, had been undergoing treatment for medulloblastoma, and Bennett was newly diagnosed, so during the car ride to the mechanic, Sparer shared what to expect during treatment.
They've been there for each other through Bennett's brain tumor recurrence and Sierra's, as well as Bennett's passing last year.
"Definitely talking to someone who's been through it makes a difference," said Sparer.
Today, Sierra attends college as a Public Policy major, balancing her coursework with maintenance chemo.
Unstoppable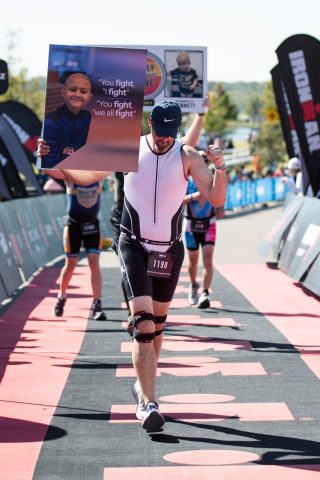 The three dads hope their personal stories will motivate other parents of kids who have cancer to begin a fitness journey of their own. They also hope their feat brings awareness of childhood cancer and much-needed funds for St. Jude.
"(St. Jude) is one of the best places," said Frunzi. "If you have cancer and have to go somewhere for treatment, the doctors are amazing. Everyone is amazing, so we're trying as a family to give back to the hospital and kind of get more people involved and donating."
Even now that Bennett is gone, Frunzi says Bennett's doctor has been unstoppable in his quest for a cure for patients who have treatment-resistant medulloblastoma.
"He still hasn't given up," said Frunzi. "He texts me, you know, usually once a month, or I'll text him just to see how research is going and see if he has any breakthroughs because I'm waiting for the day that he calls us and says, 'Hey, I've figured it out.'"
Through all the hours of training and grueling competition, Bennett and Jackson have motivated Frunzi, and he has a special reason to celebrate Jackson at the event.
Jackson's treatment at St. Jude for acute lymphoblastic leukemia and acute myeloid leukemia included 14 months of chemotherapy, as well as two bone marrow transplants.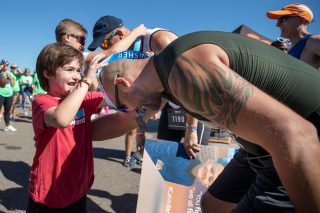 Oct. 1, the day of the St. Jude IRONMAN 70.3 Memphis, marks the two-year anniversary of when Jackson received his mother's lifesaving cells through a bone marrow transplant at St. Jude.
Jackson has been cancer free ever since.