After your child is referred to The St. Jude School Program by Chili's, a staff member will meet with you and your child during a new-patient consult. At that time, we will collect basic information, such as name of your home community school, your child's grade level and the length you expect to stay at St. Jude.
The School Program teacher assigned to your child will contact the home school and determine the best way we can help with your child's academic work. After the plan is developed, a school appointment will appear on your child's daily schedule. Each patient receives three hours of instruction, which can be supplemented with group enrichment times and time with our tutors.
Home-bound services
The School Program strives to provide each student with a continued sense of normalcy throughout treatment. One way we do this is by allowing students to stay enrolled in their home community schools.
The student's school can enroll the patient under home-bound services. Our teachers will then take the place of your child's regular teacher until you return home. Upon returning home, your child will have an easier transition back into the classroom or will be assigned a home-bound teacher from your community.
Some children need home-bound services either in the Memphis area or in their home community outside Memphis. We can help parents arrange for these services. To authorize home-bound services, your child's doctor will typically need to sign a document explaining the child's illness. This will either be a letter from the doctor or a form provided by your child's school system. The School Program staff can assist in getting the form signed or obtaining the doctor's letter. We do not charge for these services.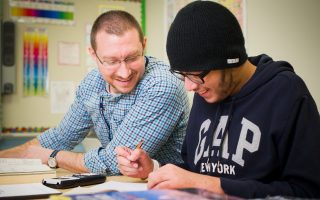 Hospital-bound services
Hospital-bound educational services are provided mainly to patients who live outside the Memphis area and who are at St. Jude for treatment. Patients from the Memphis area can be seen by a St. Jude teacher if they do not have access to home-bound services.
Each child enrolled in the School Program receives at least three hours of instruction each week.
The classrooms are open every day. Please check with the teachers to find out what hours they are available for instruction.
We encourage patients to use books and assignments from their home schools. Assignments can be sent to St. Jude by fax, mail or email. We will provide curriculum materials if it is not possible to get assignments from your child's home school.
Once enrolled in hospital-bound services, your child will attend class regularly and will have homework to complete.
International patients who do not speak English can attend the English as a Second Language (ESL) class with an ESL coordinator. Once their English skills are at a certain level, these children can start to take part in our regular program.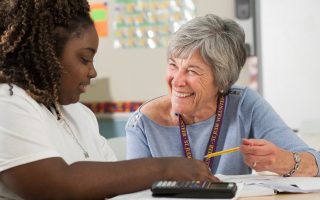 Tutoring services
We offer tutoring services to patients in kindergarten through 12th grade. Tutors are retired teachers, scientists and test-prep professionals who are experts in their fields.
The service is for students who:
need extra help mastering a skill
need to complete homework while at

St. Jude

for check-ups
want a quiet place to work or study while waiting for clinic appointments
We also offer enrichment opportunities for students. A monthly calendar of available tutors is displayed in the School Program suite. 
ACT and SAT exams
An important milestone in many high school students' educational careers is taking the ACT or SAT college entrance exams. We make sure high schools students have access to preparatory and test-taking services while they are at St. Jude.
Preparation for ACT or SAT exams has two parts: The application process and study/preparation for the actual exam.
Due to fatigue and treatment schedules, our patients usually need accommodations such as extra time or taking the test over multiple days. In order for that to happen, certain documentation must be included in the application. St. Jude School Program staff can help you organize these materials and fill out the application so that your child receives the accommodations.
View accommodations letter template >
We want to make sure our patients have the opportunity to learn about the exams and to understand how to successfully take them. We work with a local organization called Get to College to provide regular ACT/SAT workshops at St. Jude for our patients. This allows patients to prepare and study for the exams and gain important test-taking tips to improve their scores. For more test prep material, you may purchase a program called eknowledge at a discounted rate.
Contact the School Program to learn about the next workshop.
School reintegration services
It is sometimes hard for patients to return to school, especially if their appearance has changed due to hair loss or other effects of their illness or treatment. The amount of time spent out of school and away from the structure of the school day can also make the transition difficult. To help smooth the transition, we offer a School Reintegration Program. This is a joint project of the School Program and Child Life Department.
School Program staff can help you contact your child's school. We can give school personnel information about your child's diagnosis and treatment. Our staff can also discuss options for continuing the patient's education.
For patients who live within an hour's drive of Memphis, St. Jude staff can visit the patient's school. Our staff can talk with classmates about your child's disease, treatment, side effects, the central line or port-a-cath, and answer questions. The program may include a video as well as other visual aids and written materials.
For patients who live more than an hour drive from Memphis, School Program staff can contact community school personnel to discuss school re-entry issues and send them relevant video and written materials.
Each child is an individual, and each child's school reintegration program is designed to meet the wishes of that child and the parent or guardian. What is said to classmates and how it is said is based on the children's age level.
Learn about School Program services for teachers and other school personnel >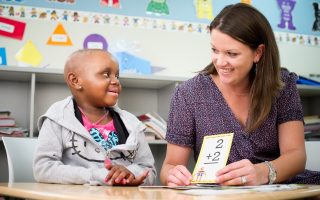 Advocacy
Sometimes when patients return to school they need special education services such as:            
resource class assistance
accommodations in the regular classroom
physical, occupational or speech therapy services.
Federal laws require that public schools provide these services to students who meet certain criteria.
School Program staff can help you and your child seek such services. We can also provide you with details about relevant federal laws. School program staff can attend a meeting at the school or be on a conference call with you and your child to discuss these services.
Learn about special education services and the federal laws that require these services:
St. Jude has also developed educational resources for you and your family, including our comprehensive "Do you know ...?" series. These are downloadable and printable documents you can use to learn more about the care and treatment of your child.
A 504 plan is a plan that allows students with medical concerns to receive accommodations to help them learn better. It is part of a federal civil rights law, the Rehabilitation Act of 1973. The 504 plan is named for Section 504 of this law.

An individualized education program, also called an IEP, is a special education plan for your child. It is part of a federal law, the Individuals with Disabilities Education Improvement Act (IDEA).
Siblings
The School Program does not provide educational services for siblings. For long-term stays, siblings need to enroll in a local public or private school or be taught by their parent. School Program staff can give parents information about local public and private schools in the area.
For short-term stays, the sibling's home school can send assignments and tests on a regular basis to the School Program. Staff can receive and send faxed and mailed assignments and tests from the sibling's home school.
Frequently Asked Questions
A patient can be referred to the School Program by parents or staff. Obtain a referral by contacting the School Program director, contacting a School Program teacher or by ordering a School Program Consult in MILLI.

The School Program staff can assist by making phone calls to the patient's community school to explain the importance of using books and other materials from the home school. If this is unsuccessful, we will use our own materials to create an appropriate curriculum for the patient. In doing so, we will strive to continue to work with the community school to make sure they accept our curriculum.

Yes, we can send written and video materials to school personnel to help them understand the issues our patients face in returning to the school environment. 

Contact the School Program Director or ask clinic staff to order a School Program Consult in MILLI. School Program staff can help you understand your rights under federal laws that govern the provision of special services in the school. We can also contact school personnel to advocate for your child's needs.