When students are away from home for an extended time, they need assistance keeping up with their classwork back home. The St. Jude School Program by Chili's staff is available to help students with their classwork while receiving treatment. We will work with you to make this a smooth transition. We also offer services to help your student return back to school after treatment at St. Jude.
Enrollment
When new patients are admitted to St. Jude, we meet with them to determine if they need school assistance. If a need is identified, they are assigned a teacher who will coordinate with the home school while the patient is at the hospital.
Using materials from the patient's home school is ideal - this helps the patient feel connected to friends at home and allows for an easier transition when treatment is complete. We encourage patients to use books and assignments from their home school. You can send patient assignments to us by fax, mail or email.
We will help set up home-bound services if they are needed. St. Jude provides hospital-bound educational services to patients who live outside Memphis and who are at St Jude for treatment. We provide at least three hours of instruction each week and offer tutoring services.
When a patient is ready to return home, our school staff will send a grade report to the home school. 
View a sample report card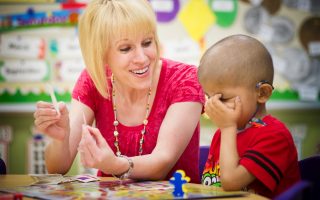 School re-entry services
After treatment at St. Jude, patients may need help easing back into their normal routines, including going back to their home schools. If a patient family requests re-entry services, we can provide school staff with details about the patient's diagnosis and treatment and discuss ways to help the patient smoothly transition back to the community school. For schools within an hour drive of Memphis, St. Jude staff can also make an onsite visit to talk with classmates about the child's disease and treatment and to answer questions the students may have. The program may include a video and other visual aids and written materials.
Cancer Education
The Cancer Education for Children Program is an outreach initiative of the St. Jude Children's Research Hospital Comprehensive Cancer Center that aims to support K-12 educators by offering professional development opportunities that provide them with tools for teaching the basic science of cancer formation, treatment and prevention.