At the National Hemophilia Foundation's 68th Annual Meeting, St. Jude Children's Research Hospital will offer hemophilia educational materials and information to attendees.
Stop by Booth 623 to learn more about the Hemophilia Treatment Center at St. Jude and our gene therapy research for hemophilia.
Gene therapy for hemophilia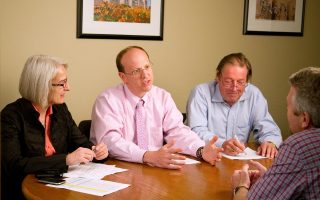 St. Jude has been a pioneer in gene therapy since 1997. Recently, our doctors helped develop a successful gene transfer treatment that improved the quality of life for some adult patients with severe hemophilia B. We are now developing a new clinical trial to further investigate this technique and will soon launch a similar gene therapy trial for hemophilia A.
Learn how St. Jude is leading the way in gene therapy research for hemophilia.
Gene therapy provides life-changing relief from hemophilia
Gene therapy developed at St. Jude, University College London and the Royal Free Hospital has transformed life for 10 men with severe hemophilia. The therapy provides a safe, reliable source of the blood clotting protein factor IX that has allowed some patients to adopt a more active lifestyle. The results of the study were published in 2014 in the New England Journal of Medicine.
"One of the beauties of the gene therapy approach is that it corrects the abnormality at a very basic level, at the gene level, but also has the potential after just a single intervention to correct the disease process long-term for the patients. Just a single administration of the viral vector can lead to a long-term cure.  And that is a novel, groundbreaking approach."

– Andrew Davidoff, MD
Senior author, hemophilia B gene therapy study
Chair, Department of Surgery
St. Jude Children's Research Hospital
Hemophilia Team at
St. Jude
Senior Coordinator - Clinical Research Operations