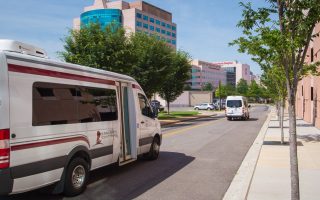 Hospital Van Schedule
Hospital shuttle buses will take you between St. Jude and the Ronald McDonald House, Target House, Tri Delta Place or your hotel. You are not charged for this service.
The shuttle buses run a continuous loop on this schedule:
Sunday through Friday: 6:30 am to 7 pm
Saturday: 8 am to 5 pm
On-call Monday through Friday: 7 pm to 11:30 pm.
For special transport requests, call Patient Services at 901-595-4501.
Direct your requests for after-hours emergency transport to the nursing coordinator. You can reach a nursing coordinator by calling the switchboard at 901-595-3300.
Since the shuttles follow a set route, drivers cannot honor requests for side trips to restaurants and other locations. One of the shuttle buses often makes trips to the Kroger grocery store and Walgreens' drugstore closest to St. Jude. Ask about this service at your housing facility.
If you have called for a special pick-up, please meet the shuttle at the correct time and place. This will ensure prompt service for others. Also, we ask that you follow these rules:
No smoking, eating or drinking on the shuttle buses.
Food and drink should be in sealed containers to prevent spills.
Seat belts must be worn at all times.
Children 4 years old and younger must ride in child restraint seats. Children 4 to 8 years old must be in booster seats if they are shorter than 5 feet tall. These are Tennessee state laws with no exceptions. Parents who do not put their children in safety seats will not be able to use the hospital shuttles. Child safety seats are offered on all shuttles.
Children under the age of 16 must be with an adult when riding the shuttle bus.
Zipcar Rentals
Zipcar is a car-sharing service that provides access to vehicles located in cities, airports and campuses all over the world.
You can rent a Zipcar easily. Two vehicles are available for hourly or daily use for patients and families. One car is located on the St. Jude campus and the other is at Target House. Both cars are available for use 24 hours a day, 7 days a week.
Zipcar Info
Cars are self-service and on-demand
The two Zipcars on

St. Jude

properties have a convertible car seat installed
Gas, insurance, maintenance and 180 miles are included in each reservation
Patient families can join for free and receive $15 in driving credits
Hourly rates are discounted for patients and families
Rates start at around $10 per hour or $84 per day
If you have an international driver's license, visit www.zipcar.com/apply/foreign-drivers to learn more about how you can use Zipcar.
How to Use Zipcar
Apply online at www.zipcar.com/stjude to receive your Zipcard. The Family Resource Center or Target House can provide detailed instructions on how to register with the

St. Jude

discount.
Reserve and pay for a car online for the length of time needed—from one hour to seven days.
Hold your Zipcard to the windshield to unlock the car. The keys are in the vehicle.
Return the vehicle to the same reserved parking spot at the end of your reservation. Avoid late fees by returning the car on time.
Extend your reservation, if needed, as long as the car is not reserved for someone else.