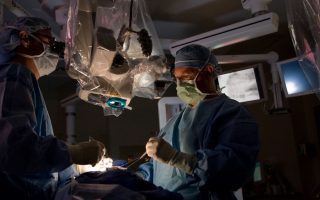 St. Jude surgeons specialize in treating solid tumors that can occur in the muscles, bones and organs.
Our surgeons helped develop delicate techniques that remove these types of solid tumors without damaging important body functions.
Learn more about how we treat the following cancers:
Children with solid tumors may be eligible to come to St. Jude for surgery only, even if they are receiving most of their treatment at another facility. Families and referring physicians may contact the Department of Surgery at 901-595-4060 to request an evaluation.
What To Expect
Surgery is vital part of the treatment plan for most children with solid tumors. It usually begins with a biopsy that allows doctors to get a sample of the tumor tissue. Depending on the type of cancer and how far the disease has spread, your child may need chemotherapy, radiation or surgery to remove all or as much of the tumor as possible. We work closely with you and other members of your child's medical team to develop the best plan for your child.
Before surgery, you and your child will visit the Surgery Clinic or someone from the clinic will visit your child in the hospital room. Depending on the surgery your child will have, he or she may go to one of these clinics:
Eye Clinic, which includes:

Eye Tumor Clinic for patients with cancers in or around the eye
Plastic and Reconstructive Surgery Clinic to help with the way eyes function and look
Ocular Immunology Clinic to treat eye infections and for patients just completing a stem cell transplant
Ocular Development and Pediatric-Neuro Eye Clinic to help patients whose disease or treatment has changed their vision or eye movement
Dental Clinic
Ortho Clinic 
Limb-Sparing Clinic 
AVN (Avascular Necrosis) Clinic
Otolaryngology (ENT) Clinic

General Surgery Clinic
Immediately after surgery, your child may go to the Intensive Care Unit (ICU) to be monitored. You will have a room attached to the ICU so you can also be close to your child during recovery.
Once your child has been discharged from the hospital, you will have access to a wide support system that includes a full range of occupational, physical and speech therapy. Experts also provide nutritional and behavioral health counseling as well as dental services to help with any treatment-related conditions that may arise.
Refer a Solid Tumor Patient