A grandfather's legacy of cancer research gives his grandson hope
Dr. Charles Pratt spent decades researching pediatric cancer at St. Jude. Now, his family is getting hope from the hospital where he made his life's work.

December 01, 2020 • 3 min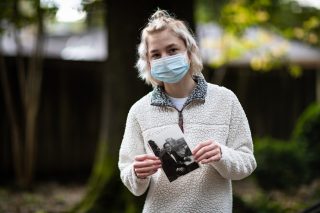 Benton vividly remembers his father's retirement in the fall of 2001. The gathering was in celebration of Dr. Charles Pratt, who enjoyed a distinguished 36-year career at St. Jude Children's Research Hospital, researching some of the rarest pediatric cancers. Benton thought that would be his last visit to St. Jude.
But in 2017, on the 14th birthday of his youngest son, Phillips, Benton found himself at St. Jude once again.
The hallways were reminiscent of days gone by, when he had visited his father and his colleagues at work. This time, though, Benton and his wife, Leigh, were accompanying their son, who had been referred to St. Jude as a patient.
"I really wished that my dad had been there," Benton said, choking up. "That was the day I think we missed him the most."
Decades earlier, Dr. Pratt and his wife, Sarah, moved from Richmond, Virginia, to Memphis with three young daughters in tow. It was January 1965, and he was a pediatrician with a keen interest in childhood cancers who accepted a job offer from Dr. Donald Pinkel, the first medical director of St. Jude Children's Research Hospital. What the Pratts believed would be a two-year stint expanded, along with the size of their family. Benton and his brother were born in Memphis.
St. Jude was a second home to the Pratts. Sarah was part of the Wives Club and worked with new doctors' wives and families to help them get acclimated to the city and sometimes the United States. The Wives Club morphed into the St. Jude Women's Club, which today includes women employees of the hospital as well as spouses of employees. Today, Sarah Pratt is an active member of the Ladies of St. Jude, a club that provides support to the hospital.
Dr. Pratt didn't live to see the birth of his grandson Phillips, who would walk through the hospital doors years after his grandfather's retirement.
At St. Jude, Phillips was diagnosed with a rare liver cancer, fibrolamellar hepatocellular carcinoma. He needed a liver transplant. While neither of his parents were matches, one of his cousins was a perfect match and readily donated the left lobe of her liver. He received the transplant in December 2017.
His recovery wasn't always easy. Phillips remembers feeling frustrated while in intensive care as he craved to quench his thirst. Being on a ventilator prevented him from having liquids or ice. He longed to see his older brother, Charles, who was a senior in high school. He missed his family and friends. Phillips needed more surgeries, one lasting 12 hours, to remove hundreds of tumors. He required a feeding tube and countless rounds of chemotherapy.
His journey was intermingled with good times, too. The Make-A-Wish Foundation granted his wish for a week-long trip to Tokyo with his parents and brother. He celebrated his eighth grade graduation and on his 16th birthday, he was surprised with his dream car, a blue MINI Cooper.
Now, Phillips is full of energy and has a zest for life. This summer, he proclaimed, "I just want to move forward with my life and take the next step." One day, to the astonishment of his parents, he came home and told them he had a summer job.
Still under the watchful eyes of his doctors, Phillips explained, "St. Jude really takes care of you so well and it's really one-of-a-kind. All of the staff is so caring." He particularly enjoys keeping his nurse Loren abreast of the latest developments in his life.
"St. Jude is such a welcoming place, they have treated us like family," his mom said.
St. Jude has been family to the Pratts for a long time. The hallways of the past were filled with happiness for the Pratt children, while Dr. Pratt labored to give St. Jude patients hope.
Today, the hallways are filled with happiness and hope for the Pratt grandchildren. They've been Phillips' biggest cheerleaders, encouraging him and keeping him in good spirits throughout his journey.
Phillips is now a junior in high school. And, following in his grandfather's legacy, he has his sights set on becoming a physician.