Zabdi's Gift for Giving
He puts others first even as he copes with cancer, whether it's playing a song for Black Panther star Chadwick Boseman or tech support for Mom.

January 17, 2019 • 5 min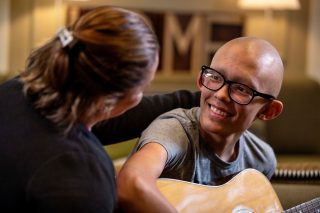 The surgical scar runs down Zabdi's right hand, a reminder of the cancerous tumor that brought him to St. Jude Children's Research Hospital for treatment of rhabdomyosarcoma.
But the 15-year-old from Texas smiles and says he's recovering just fine, thank you.
"I still can't make a fist," he says, "but I've been having physical therapy so eventually my hand will go back to normal."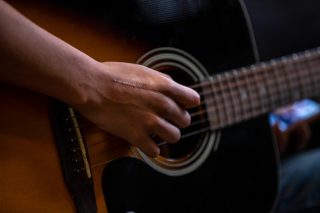 Spend a few minutes with Zabdi and you can't imagine he's ever made a fist. He seems to have such a giving nature that he'd rather use his hands for higher purposes — from playing his favorite Regional Mexican music on guitar and accordion, to helping people through his love of computers and all things technological.
"I like knowing stuff to help other people," he says. "Like my mom, sometimes the Internet's not working. I try to find the problem. Or my brother, his Xbox, the disc stops working. So I try to research and see what happened.
"Just knowing things to help other people, to solve problems for them, technology-wise, really just inspires me."
Spend a few more minutes with Zabdi and you might even forget he's a cancer patient in the midst of a year-long — and perhaps longer — treatment that's included surgery, chemotherapy and radiation.
"Zabdi has offered to help in any way if we ever have technology needs in the Teen Room or with any activities that we do," says Amanda Brody, Child Life specialist. "And he had the idea to have a Fortnite tournament in the Teen Room that hopefully will become a reality one day soon with his help."
Brody tells a story about attending an oncology camp last summer with Zabdi and two other St. Jude patients.
"Zabdi quickly became friends with the other two patients, whom he had never met before, and they were inseparable at camp," she says. "One of the patients was in a wheelchair and both Zabdi and the other St. Jude patient pushed him in the wheelchair from place to place, got every one of his meals for him, and made sure he had the opportunity to do everything they were able to do.
"When I told Zabdi at camp how proud I was of him for doing all of this, he seemed surprised and said, 'Well, why should his experience be any different than mine because he is in a wheelchair?' "
Zabdi's own cancer experience began after he suffered a broken hand while riding a go-kart.
"That was actually the first time I was doing that," he says. "I was with a friend and he has a ranch. He has a go-kart and invited me. I thought, 'Sure, why not?' We got into the wreck. The go-kart flipped. The go-kart landed on my arm."
Zabdi had surgery on his hand, wisely retired from go-kart racing — "Yeah, I'm done with that" — and everything went back to normal, for about a month. Then a bump appeared, barely noticeable at first, on his right hand. The bump grew, but there was no pain, and so Zabdi's doctor wasn't initially concerned.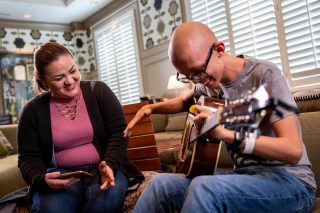 That changed as the bump continued to grow. There was an MRI, a biopsy, and suddenly the boy and his mom were St. Jude-bound.
"It's a hard experience and it's scary," Zabdi says. "But I always try to look at the positive side of things."
And so, Zabdi being Zabdi, he researched his condition, and was reassured by what he found. He took solace from a survival rate of more than 70 percent for children whose rhabdomyosarcoma has not spread.
His mom, Gabriela, says she was told Zabdi might lose his hand. But instead, she's watched him return to guitar playing after surgery, and says, "I feel like he's more alive than before."
The transformation is more than musical. Zabdi says his experience with cancer, and with St. Jude, has made him "a better person … I like to think, a more hopeful person."
He talks about the friends he's made at St. Jude, and also the celebrities he's met — from "Black Panther" movie star Chadwick Boseman to Regional Mexican singer Luis Coronel to U.S. soccer standout Tim Howard.
He talks about how he's bonded with his mom, these last few months. They were close back home, he says, but with his schedule — soccer games, school band — and her work, their time was limited. Now they're together every day, living at Target House and making regular trips to St. Jude during the week.
"St. Jude to me is a door to the happiness," Gabriela says. "Because we feel OK in here. With everything that is going wrong there is always a happy moment. Because they're supporters, they're encouragers.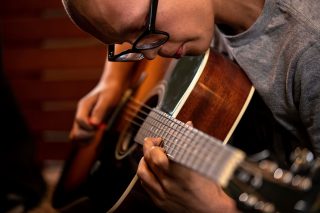 "St. Jude to me is like God, because with God we always have hope, faith. And that's how we feel in here. It's everything to us."
Zabdi says of St. Jude, "To me, it's the world. To me, it is life itself."
If his hoped-for career in technology doesn't work out, he might want to be a life coach or motivational speaker.
"Just try to be nice to people," he says, "because you don't ever know what they're going through, or you don't know how their life is."
Talking to Zabdi, you might not know his young life is in a state of upheaval.
When he mentions his treatment, it's in the context of getting to watch "Black Panther" on the "huge" TV in the radiation area. So over the course of his month of radiation treatment, he says, "I watched it like four times."
When he talks about pain, it's in the context of how playing guitar — which he learned via technology, watching online instructional videos — helps him cope.
 "Every time I have chemotherapy (coming up) and I go to the music room, I forget I have chemotherapy," he says. "I forget about nausea, I forget about the headaches.
"When I play music, I feel happy. I feel like I'm doing something that can make other people happy."
He was practicing guitar one day in the Amy Grant Music Room at Target House when Boseman popped in.
"He was playing the drums," Zabdi says. "I was like — is that him? Am I imagining him or something?
"He looked at me. I was just staring at him with a weird face. He just started laughing. He was like, 'Do you play guitar?' I said, 'Yeah.' He said, 'Play something for me.'"
So Zabdi played the Black Panther the introduction to a Mexican song called "No Lo Hice Bien" — or, in English, "I Did Not Do It Well."
To the obvious question, Zabdi smiles and says, "Oh, yeah, I was really nervous. It was my first time playing really in front of a lot of people — and especially him."
It was, though, a pure Zabdi moment — even in the presence of a Hollywood star, of an actor who's played Thurgood Marshall, Jackie Robinson, James Brown and Black Panther, the boy's gift for giving was on full display.