Taking aim at life's greatest challenges
St. Jude

patient Emily finds focus, relaxation while excelling in trap shooting.

August 26, 2020 • 6 min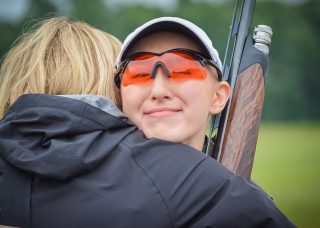 When the shooting had ended, when she had finished blasting one target after another into tiny shards of clay, Emily rested the shotgun on her shoulder and smiled serenely as her mom wrapped her in a big, congratulatory hug.
A photo captured that happy moment at a national trap shooting tournament two years ago. But it didn't tell the whole story.
It gave no hint of all the difficulties leading up to the embrace, such as how, on the day she was to leave for the competition, Emily was at St. Jude Children's Research Hospital awaiting the results of blood tests that would determine whether she'd be allowed to go.
Nor did it show the chemotherapy port she wore since she was between rounds of treatment, leaving her prone to bouts of nausea and dehydration. Or, that she'd lost two ribs and part of a lung just six years earlier during a previous ordeal with cancer.
Anyone looking at the photo, not knowing better, also would fail to notice the most indelible toll cancer had taken on Emily: She has only one eye.
With that remaining eye, however, Emily had peered down the barrel of her 12-gauge and hit 195 out of 200 targets, good enough for fourth-place among females, and ninth overall, at the 2018 Scholastic Clay Target Program national championship in Ohio.
And she's only gotten better ever since. In last year's nationals, Emily recorded 199 hits out of 200, becoming the first woman to win the Rudy Cup, awarded to Tennessee's top shooter at the two-day event.
Now 19, Emily is aiming at new targets: A career in coaching, perhaps, and maybe even competing in the Olympics. Anything to do with shooting.
"This is what I love to do," she said.
'The choice I would've made'
When you ask Emily how she does it, how she excels in trap shooting amid all her challenges, she pauses for a moment. She mentions the good vision (20/15) in her remaining eye, the camaraderie with her teammates and the competitive thrill she gets from shooting.
Then she talks about her cancer.
"Have you ever heard of 'chemo-brain,' or 'brain fog'?" Emily asked, referring to one of the side effects of treatment.
"I definitely do have brain fog. When I'm not shooting, I always have a little bit of difficulty concentrating or thinking, and it only gets worse when I'm tired."
But the fog clears when she cradles that shotgun against her shoulder. "When I'm shooting, it kind of hits 'pause' on that because I'm so heavily concentrated I can actually think again … I'm just reacting to what's in front of me. I'm doing the most simple form of concentration."
The sport also served as a relaxing diversion from treatment. Which is important, because Emily has been dealing with cancer longer than she can remember.
When she was 18 months old, a doctor shined a pen light across both eyes during a checkup and detected an abnormality that eventually led to a diagnosis of retinoblastoma in her right eye. The diagnosis was especially surprising because retinoblastoma, or cancer of the eye, often reveals itself as a white dot in kids' pupils in flash photographs. As the first-born of three kids, Emily had been photographed constantly, yet "none of her pictures showed this," her mom, Christa, said.
At St. Jude, doctors found the tumor had essentially folded the retina over. They gave her parents the option of removing the eye, coupled with follow-up chemotherapy, or leaving it in and treating the tumor, which would carry the risk that the potentially lethal cancer would spread. They opted for removal.
Emily understands her parents' reasoning. "That's the choice I would've made."
She spent the next decade enjoying a normal childhood. Well, mostly. Her mom chuckles recalling how other kids were confused when Emily's prosthetic eye didn't close while they were hiding from her during games of hide-and-seek.
At age 11, after years of healthy activity like hiking, horseback riding and rock climbing, Emily noticed a lump the size of a ping pong ball under her left arm. It kept growing and an ultrasound revealed a tumor had invaded one side of her chest, pressing against her heart and trachea.
The diagnosis this time was Ewing sarcoma, a type of cancer that typically grows in and around bones.
Emily had showed no sign of being ill or weak. Quite the contrary, her mom said. "She'd been playing soccer in 100-degree heat."
This time, in addition to chemo, Emily underwent surgery to remove the tumor, along with two ribs and the diseased part of the lung. She also endured six weeks of daily radiation therapy.
As she had done following the retinoblastoma, Emily "recovered beautifully," Christa said.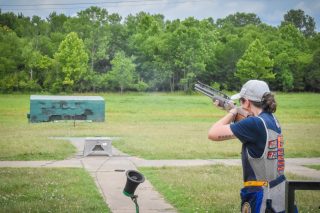 'Something I could do with my dad'
Bill Quinlen, head coach of the trap shooting team at the Memphis school Emily attended, runs a test on all incoming members to see which eye is dominant, the one best for aiming.
In Emily's case, it led to an awkward exchange.
Coach: OK, Emily, we've got to do your eye-dominance test.
Emily: That's OK, you don't have to. I'm left-eye dominant.
Coach: How do you know that?
Emily: Well, I don't have a right eye.
"For a solid year after that, they would call me their one-eyed shooter," Emily said.
She had discovered the trap shooting team during freshman year of high school on an activities sign-up day. She immediately thought of her dad, Chris, a longtime hunter.
"I said, 'Oh, sweet, my dad does that. This is something I could do with my dad.'"
Emily took to the sport immediately. Trap shooting, sometimes called "golf with a gun," is largely a mental sport, Quinlen said, and one that plays to Emily's strengths.
"What really sets her apart is her intense focus and what we call 'in-the-moment.' She's not thinking about the past, she's not thinking about the future. She's thinking only about the next target."
Quinlen said having just one eye isn't as much of a disadvantage in American Trap, the type in which Emily competed during high school, as it would be in International Trap, which requires better peripheral vision and depth perception to track targets launched at sharper angles and at greater speeds.
Emily, for her part, showed throughout her high school career that missing an eye was not a hindrance to competition. At a state meet involving more than 400 shooters, she was one of four to hit all 100 targets. She bested the other three competitors – all males – in a shoot-off.
In honor of the legendary sharpshooter who performed with Buffalo Bill's Wild West shows more than a century ago, Emily's friends began calling her "the real Annie Oakley" after their school performed Annie Get Your Gun, a musical based on a fictionalized account of Oakley's life.
Emily also has displayed her marksmanship while hunting with her dad, bagging an elk at 300 yards in Wyoming. But for all her skill in trap shooting, there's one type of mid-air target she has trouble hitting.
"Believe it or not, I can't duck hunt to save my life," she said. "You'd think I could, but I can't."
Another round with cancer
While she immersed herself in shooting, however, Emily again found herself in cancer's crosshairs. During the spring of her sophomore year – and not quite five years after she'd completed her previous treatment – doctors noticed spots on her right lung.
After noticing the spots growing, they scheduled a biopsy.
Emily suspected the cancer had returned, but the thought didn't keep her off the shooting range.
"Actually, before I got the biopsy done, I went to a competition. You know, priorities?"
The biopsy confirmed the Ewing sarcoma had returned.
"To be rediagnosed at the five-year mark, it just hit really hard," Christa said.
Chest radiation and more chemo followed. Emily finished treatment in early 2019 and completed her junior year at the St. Jude School Program by Chili's. She had her chemo port removed in time for her birthday in June.
In light of multiple malignancies, Emily's parents have sought to determine whether she's genetically predisposed to cancer.
"We've come up blank every time," Christa said of the tests conducted so far.
"We've gone as far as the current technology in genetics can take us. We're waiting on technology to catch up to see if there's an answer there."
Following her graduation from high school this spring, Emily will enjoy a "gap year" before beginning college. It was her parents' idea. They told her she had spent so much of her young life in the hospital, it was time she did something she liked, something fun.
Her unsurprising response: "I'm going to go shoot."
Emily has been training with a coach in St. Louis to compete in International Trap, which she knows will be especially challenging for a one-eyed shooter. "It's faster and it's harder, but I really want to do it."
She's competed in some qualifying events for the National Junior Olympics. "I've done OK," she said. "My name wasn't at the bottom of the list."
This spring, Emily won the 2020 Courage Award presented by the Memphis Commercial Appeal newspaper. Previously, she'd spoken before the Tennessee Wildlife Resources Commission, telling the members and audience about the transformative effects of shooting, how it gave her confidence, focus and direction.
She talks of bigger things to come. Friends have asked if the Olympics might be in her future. "I say, 'Why not?'"
Why not, indeed.
The odds might seem stacked against her, but Emily has shown that when she takes aim at something, she seldom misses.