The impact of
St. Jude

supporters glimpsed in a moment and for years to come

New clinical study findings may be a light on the horizon for St. Jude patients like Cash and for kids of tomorrow with difficult to treat cancers.

December 10, 2021 • 3 min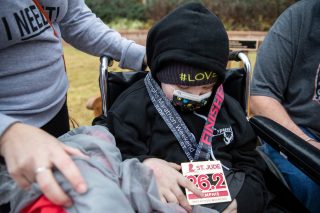 I was among the participants running through the campus of St. Jude Children's Research Hospital recently when I spotted him. The 7-year-old boy in a heavy coat, knit cap and face mask.
It was the 2021 St. Jude Memphis Marathon and Cash's mom had parked his wheelchair along the route so he could wave and cheer for the runners.
I stopped to chat and left feeling inspired, renewed. Our conversation impacted me in a way I never get used to, no matter how many patients I'm lucky enough to speak with.
When St. Jude opened nearly 60 years ago, it was with a mission to make an impact in the world of catastrophic pediatric healthcare.
Over six decades, thanks to St. Jude and its supporters, the overall childhood cancer survival rate in this country has risen to new heights. The survival rate for acute lymphoblastic leukemia, the most common type of childhood cancer, for example, was just 4 percent in 1962. Today it's 94 percent.
Survival rates for neuroblastoma, a cancer of the nervous system, however, are far lower.
Cash was diagnosed with advanced stage, high-risk neuroblastoma and has recently come back to St. Jude following a relapse. He wished me good luck as I ran through campus. I told him maybe we'd run the race together some day. Maybe we could even pull his mom in a wagon. I think he liked that.
I hope Cash and I have the opportunity to run together just as I hope every kid with cancer today and in the future will be able to live their lives to the fullest and realize their dreams.
The new St. Jude strategic plan aims to impact more kids with cancer by focusing on difficult to treat cancers like neuroblastoma.
We already see light on the horizon. Just last week the results of a new clinical trial at St. Jude were released in the Journal of Clinical Oncology. Survival rates for patients on the NB2012 protocol, whose treatment included a novel monoclonal antibody, increased by more than 20 percentage points.
It's a protocol Cash has been treated on.
Dr. Wayne Furman of the St. Jude Department of Oncology, and first author of the article, said, "I have treated high-risk neuroblastoma for 30 years, and I have never seen results like this in high-risk patients. This is the best result published to date for patients with high-risk neuroblastoma, period."
That's such encouraging, energizing news. But even more inspiring and courageous, honestly, is what Cash's mom, Katie, said about research happening at St. Jude: "I love that we can be a part of the bigger picture. … Hopefully, this is going to be the cure for my child, but if it's not, I would never want someone else to go through this if they didn't have to. So, if we can help someone down the road, even if it's 10 years down the road, then we're all about that."
Your donations make this kind of hope and optimism possible because they — not insurance reimbursements or government grants — fund the vast majority of St. Jude research. Research that can take decades to accomplish. Research that changes lives. Research that wouldn't be possible without your generosity. This is your legacy as a donor to St. Jude Children's Research Hospital.
You, like Cash, inspire us all.