More than just pixels and power-ups, video gaming provides a platform for friendship
St. Jude patients Zac and Carson have forged a bond through cancer treatment and gaming.

April 30, 2021 • 2 min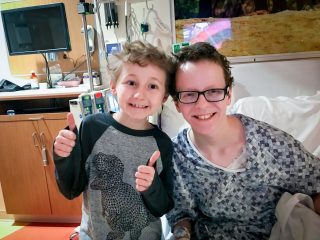 Think about sitting in a surgical waiting room and what you might find there. Fear? Anxiety? Apprehension?
What about friendship? The kind of friendship that helps to wipe away that fear, anxiety and apprehension.
That's just the kind of bond forged between Zac and Carson when their families first met at St. Jude Children's Research Hospital. Zac was there to get a port for chemotherapy after a recurrence of osteosarcoma, having already been treated for Burkitt lymphoma. Carson was prepping for another bone marrow transplant to treat acute myeloid leukemia.
Later, when Zac and Carson met up outside Kay Kafe, cancer was the furthest thing from their minds. Video games took priority. "The boys always had a gaming system or tablet in their hands, that's just how they traveled," Zac's mom, Amy, said earlier this week to the video game community during the annual St. Jude PLAY LIVE Summit.
At St. Jude, our scientists can pare down the human genome to better understand what makes a body work and how best to treat childhood cancer and other life-threatening diseases. But they can't explain the mystery and beauty of a friendship. Not one like Zac and Carson's, which has lasted through amputations, chemotherapy, relapses and remissions.
It's a friendship that withstands distance — Carson is 11 years old and lives in Oklahoma and Zac, 15, is in Virginia, with St. Jude as the center point. When the pandemic hit, these boys were already ahead of the curve when it came to virtual meet-ups. That's something the gaming community offers us — a way to reach out and connect from across a city, or from around the world.
Over the last seven years, gamers from more than 40 countries have raised more than $35 million from donors in more than 100 countries to support the lifesaving work of St. Jude. We've come to rely on these friends and celebrated them during the St. Jude PLAY LIVE Summit in anticipation for the St. Jude PLAY LIVE Prize Season which begins this weekend.
The worldwide gaming community is a model of inclusiveness and unity among St. Jude supporters. It has truly become a juggernaut for raising funds and awareness in a time when digital and virtual spaces are becoming increasingly important as a way to engage with our St. Jude family.
With everything they've endured, gaming has provided a distraction for Zac and Carson. With controllers in hand, they've welcomed stretches of normalcy in days that can seem anything but normal to young kids. They each readily talk about the fantasy and storylines that provide escape, but are quick to bring it back to real life, and a connection greater than their diagnoses — their friendship.
As we head into May and the St. Jude PLAY LIVE Prize Season, I want to thank the gamers and content creators, and our partners at YouTube, Twitch and Tiltify, for all you do for kids like Zac and Carson. But I also want to thank you for the doors you open and the bonds you help forge for patients, families and supporters everywhere.